Motorola Moto X in Canada for Rogers only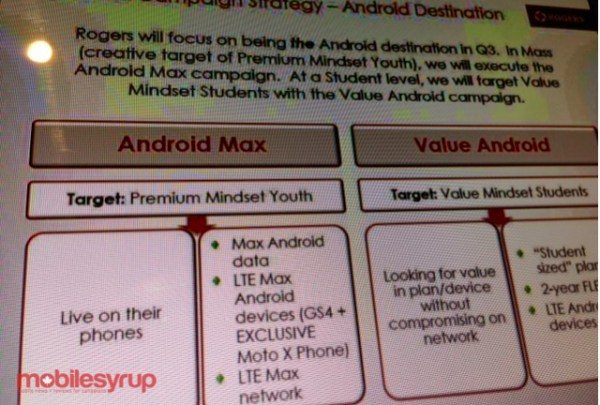 For many months the Motorola X phone was a rather enigmatic device. It then became known as the Moto X, and in the last few weeks things have been picking up speed for its much-anticipated release. If you're in Canada and one of the many Android device enthusiasts waiting for the Moto X to arrive, it looks very much as though it will be coming to Rogers only.
Motorola is now ramping up the hype for the Moto X introduction, with an intriguing ad, news on customization, and then a sign-up page being introduced. There are rumblings about a possible official reveal of the phone on July 11, but this is mere speculation at this point so we're trying not to get too excited.
Now a Rogers leaked internal document has emerged that definitely shows the device listed as an exclusive for the carrier and its 4G LTE network. While that's great for Rogers customers, it's not so good for the many other potential buyers in Canada hoping to get their hands on it, but of course this news is based on a leaked inventory so there's always hope.
If you are interested in the Moto X then you'll probably already know that many different specs have already been rumored, but the ones that seem to be sticking at the moment include a 1.7GHz Qualcomm Snapdragon S4 Pro dual-core processor, a 4.7-inch display with resolution of 1280 x 720, 2GB of RAM, and 16GB of internal storage. A 10-megapixel rear camera and 2-megapixel front-facing camera have also been mentioned, while it seems likely to run Android 4.2 Jelly Bean.
Although these specs don't sound as exciting as many were hoping for, we should remember that these are not official yet. It's also been said that the Moto X will be more interesting because of the features that will be available on it. Are you hoping for a formal reveal of the Moto X soon? If you are in Canada, how do you feel about the fact that it seems likely to be a Rogers exclusive?
Source: Mobile Syrup