LG Optimus G2 launch party confirmed, hero phone tipped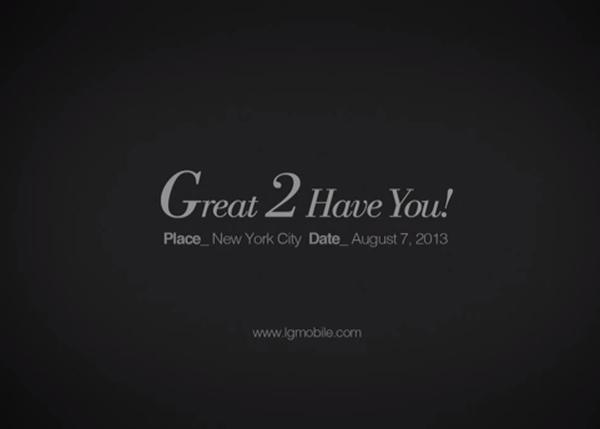 There has been a lot of anticipation for the LG Optimus 2 over the last few months with numerous leaks and rumours appearing, and now we have news that the handsets launch party has been confirmed with a hero device being tipped to be released.
Last month we heard of an event that LG were planning for August and now LG has sent out press invites as well as posting the video you can see below onto YouTube. The event is taking place in New York on August 7th and the video below is teasing the number 2 throughout.
The line of "Great 2 Have You" is attached and the handset is being tipped to be a hero smartphone from the company, and could actually be the LG Megalodon that was leaked back in March and at the time was thought to be the upcoming Nexus 5.
The handset is thought to have either a 5.2-inch or 5.5-inch Full HD OLED edge to edge display, and powered by the quad core Qualcomm Snapdragon 800 processor running at a 2.3GHz clock speed along with 2GB of RAM.
Other specifications include a 13-megapixel rear facing camera along with the volume and power buttons on the back, and running the Android 4.2.2 Jelly Bean operating system with the usual LG overlays.
There is also thought to be a version of the LG Optimus G2 equipped with LTE-A technology that will release on the SK Telecom network that is based in the smartphone manufacturer's home country.
Have you been looking forward to the unveiling of the LG Optimus G2?
Source: Android Central.