Micromax Canvas 4 specs to outdo Karbonn S9 HD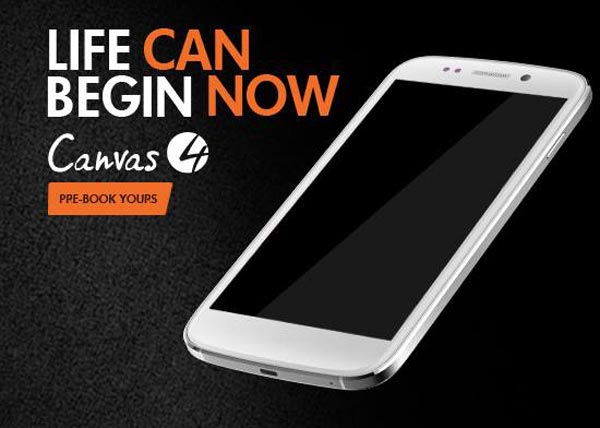 Later today the Micromax Canvas 4 specs and price will be officially revealed via live video, on Micromax's Facebook page and of course on Phones Review. The launch time has been set for 12PM in India, and this would be around 30 minutes sooner for our US readers and about 4.5 hours later for those of you in the UK.
Our article from earlier today that reported the unveil time received some feedback in relation to Micromax Canvas 4 specs. These Phones Review readers commented in a similar way to what we've seen on the official Facebook channel, and this shows a feeling of worry towards what the final Canvas 4 specification will be.
The majority of our readers feel that the Micromax Canvas 4 must launch with similar specs to the Canvas HD, and the demand for a full HD screen and 2GB of RAM is pretty clear.
We looked at the Blu Life One in another article and how some people felt the Canvas 4 specs would be similar. This was certainly not our opinion, and Micromax has a lot to prove with the Canvas 4 that will likely release with one of the highest prices to date for this brand.
The hype created around Micromax Canvas 4 has been intense and the smartphone maker is directly to blame for all the hype, which includes a number of Facebook messages to over 1 million followers every day. These people are told to book now more than once a day, and the direct pushes are raising up expectations for the final specs.
Micromax Canvas 4 specs to outdo Karbonn S9 — the Canvas 4 must trump Blu Life One on specs and be much more than a Canvas HD with better cameras. The smartphone must also beat Karbonn's Titanium S9 HD IPS, which received an announcement within the last couple of days in an attempt to steal some of the Micromax Canvas 4 thunder.
If you look at the Karbonn S9 key specs you will notice Dual-SIM support, 16GB of internal storage, a microSD card slot, Android 4.2 Jelly Bean, 5MP Front camera and 13MP rear camera, a 5.5-inch IPS capacitive screen, and a 1.2 GHz quad-core processor.
These are decent enough but it is the Karbonn S9 2600 mAh battery, 1GB RAM and lack of full HD display that would disappoint Micromax Canvas 4 fans. The new Micromax smartphone must include at least 1080P full HD display, 2GB of RAM, and a much better battery than what's included on the Karbonn S9.
In our opinion the Micromax Canvas 4 specs will outdo the Karbonn S9, although we only have a few hours left until all is revealed. Hit the comments with your last minute wish list for the Micromax Canvas 4 price and specification?