iPhone 4S issues on iOS 7 beta 3, hot and battery drain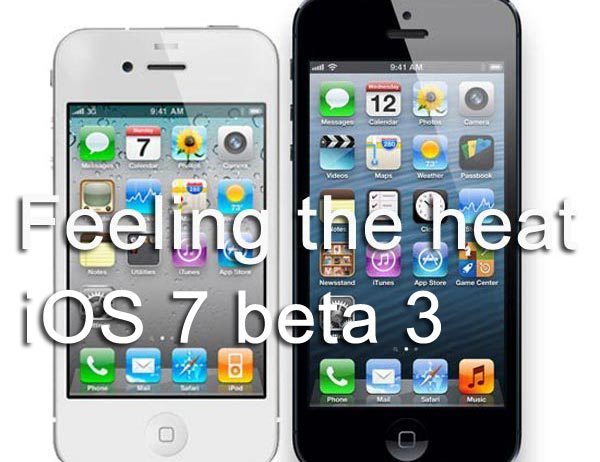 Today, we wanted to publish a quick update about the iPhone 5 and iPhone 4S running iOS 7 beta 3. This news comes via our in house developer, who has been using iOS 7 beta 3 on both the iPhone 4S and iPhone 5 with some problems being reported.
First of all you should remember that iOS 7 is still in beta form, so issues are expected but we wanted to update our readers following both models feeling heat on iOS 7 beta 2. We published some details on this last week, and received a number of comments in relation to other people's iPhones getting hot as well.
iPhone 4S issues on iOS 7 beta 3 — sadly the overheating problems haven't been fixed according to our apps developer, although they did note a big improvement for the iPhone 5 but this model didn't experience issues on iOS 6, so that might be related.
The iPhone 4S running iOS 7 beta 3 seems to get hot when using 3G, or other cellular data abilities but less hot when using Wi-Fi.
We have also received comments and a couple of emails from our readers as well. One comment stated, "I've been using iOS 7 beta 3 since it went live and it's hot, I mean HOT. My phone can fry an egg". Another reader also added to this, "I updated to iOS 7 beta 3 right away and I'm still facing a heating issue and my iPhone 4S battery drains very fast".
It is worth noting that some people have been able to fix the iPhone 4S and iPhone 5 battery drain after performing a soft reset. You might also want to read our article that explains how to fix battery life problems on iOS 7, and this article includes information on iPhone 5 vs. 4S battery drain on beta 1.
In a nutshell, you can fix the battery drain on iOS 7 by performing a clean install but make sure you back everything up first. This fix should also work with the iPhone 5, 4S and 4 running iOS 6 as well.
If you are using iOS 7 beta 3 are you feeling the heat with iPhone 4S, also do you see the battery drain fast? We will test the clean install on our iPhone 4S experiencing battery life problems, and if this fixes it we will publish an update to this article.