Micromax Canvas 4 review look and first thoughts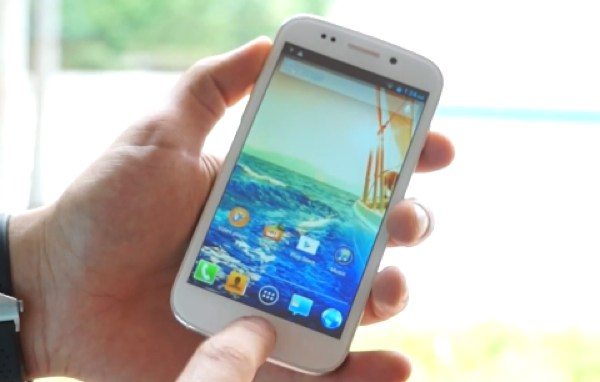 There was a huge amount of hype about the Micromax Canvas 4 before it was officially announced, with many potential customers eagerly awaiting the device. However, yesterday when we were finally able to give our readers in India all of the official details, we have to say there seemed to be a lot of disappointment that it hadn't lived up to expectations. We've now come across a brief video review of the Micromax Canvas 4 and some first thoughts to share with you.
When Micromax opened pre-orders for the Canvas 4 smartphone there were many buyers who registered their interest, even before knowing the specs and price. The official unveiling left rather a sour taste in the mouth for many though, and we received plenty of comments from readers who felt somewhat let down, especially regarding the lack of a Full HD display. Indeed, it seems that there will be a lot of people who decide to cancel their orders to receive a refund.
There are bound to be some people who are still interested in the device though, as although it wasn't everything it was hyped to be, it still has plenty to offer. We thought that for the sake of fairness we should look and see what some in the tech world have to say about the Micromax Canvas 4 A210.
As a brief recap the official specs of this device include a 1.2GHz quad-core processor, 5-inch display with resolution of 1280 x 720, 1GB of RAM, and 16GB of internal storage (expandable via microSD to 32GB). It also has a 13-megapixel rear camera with 1080p video capture, 5-megapixel front-facing camera, a 2000 mAh battery, and it runs the Android 4.2.1 Jelly Bean operating system. The price is Rs. 17,999.
First we want to give you a brief outline of a first impressions article about the Micromax Canvas 4 from NDTV Gadgets. This starts with a description of the design and build of the Canvas 4 and as far as fit and finish are concerned it's noted to be the "best Android device from Micromax." This hands-on look at the phone also notes the widespread disappointment over the lack of a Full HD display, but having said that goes on to say that in fact the display is decent enough with sharp images and text and vibrant colors.
The article goes on to look at the various hardware aspects of the phone before detailing the software and noting that there is no lag with Android 4.2.1 that the phone runs. It also takes a look at features of the Canvas 4, and ultimately the verdict is that the phone "delivers a good package," despite the fact that it is not a notable upgrade to the Canvas HD.
We've also come across a short three-minute YouTube video hands-on review of the Micromax Canvas 4 that we have embedded for you to view below this story. The video has already been viewed on YouTube almost 14,000 times since yesterday and we feel it gives a really good all-round look at the phone and gives a useful run-through of what it has to offer in the way of specs and features. Ultimately, although the Micromax Canvas 4 may not have quite lived up to expectations, it's still a good-looking smartphone that should find a place in the market.
We'd like to hear your thoughts on the Canvas 4. Are you one of the many people who were avidly waiting for this phone and ended up disappointed? Maybe you've taken a look at the video review below and think it's still a smartphone that you'd like to own? We'd be grateful for your comments on the Canvas 4.