Micromax Canvas 4 hands-on review videos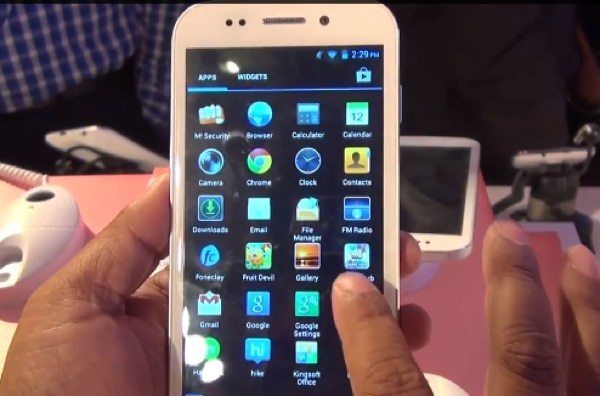 We have some further news today for our many readers in India regarding the Micromax Canvas 4 smartphone. It's fair to say there was a huge amount of hype for this device, but when it was finally officially unveiled many felt that the specs failed to live up to expectations. Despite this, the new Micomax device is still a decent handset, and so today we want to share some Micromax Canvas 4 hands-on review videos.
We have reported many times now on the Canvas 4, and there was massive anticipation for this smartphone. However, at the recent reveal there were many people that were left disappointed that it wasn't everything they hoped for, with one of the main complaints being the lack of a Full HD display. A couple of days ago we shared one of the first hands-on looks at the Micromax Canvas 4 and some first thoughts where the verdict was still pretty favorable, and it looks as though there could still be plenty of buyers.
With this in mind we've scoured the web for more video reviews of the Micromax Canvas 4 A210, as we feel that a video can sometimes offer a really good all-round view of the phone's design and hardware. Before we tell you a little about the videos, we'll give you a quick rundown of some of the key specs.
The Micromax Canvas 4 is powered by a 1.2GHz quad-core processor, has a 5-inch display with 1280 x 720 resolution, 1GB of RAM, and 16GB of internal memory that is expandable via microSD. The Canvas 4 also totes a 13-megapixel rear camera with 1080p video recording capability, a 5-megapixel front-facing camera, and 2000 mAh battery. It runs the Android 4.2.1 Jelly Bean OS.
The first YouTube video we have embedded for you to view below this story is a short hands-on review. The video packs a lot of information into 3-minutes and also gives a look of the flip cover for the phone. The next video is also a brief hands-on look at the Canvas 4 giving a good overview of the phone and a run-through of specs and features.
You might be after a more comprehensive review of the Micromax Canvas 4 though, so we also have a couple of longer videos for you to take a look at. The third video below is a 15-minute full review of the device. It offers some good close-up views as well as a nice look at the camera and also some benchmark results. The final video is just over 15-minutes long and also gives a more in-depth review of the phone, with a lot of positivity about the design and build of the Canvas 4. It goes on to look at the hardware, features and more, and there's a lot of praise for the phone, describing it as having "power-packed specs."
The price of the Micromax Canvas 4 is Rs. 17,999 and it's available from Micromax here. Although there may have been some initial disappointment about the Canvas 4, we have to say that the general consensus from looking at these video reviews is that it's still a pretty impressive smartphone that has a lot to offer. We're really interested in what readers have to say about this phone though.
Were you initially disappointed when the Micromax Canvas 4 was unveiled, and if so do you still feel the same way? Maybe you think the Canvas 4 is still a good all-round handset worthy of your money? Send your comments to let us know your thoughts on the Canvas 4.