Moto X phone benchmark and non-high end specs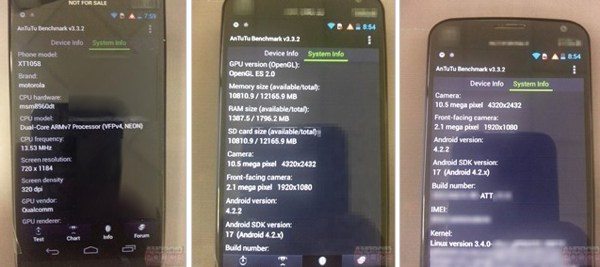 We've been seeing teasers trickle out recently for the Motorola Moto X phone. This is a much-awaited Android smartphone that has generated a huge amount of interest since it was first rumored a few months ago. Although specs have not yet been confirmed for this handset, Moto X phone benchmarks have now emerged and some non-high end specs have also now appeared.
Just in the last few days we've informed readers about a Motorola event on August 1 where we expect to see the official reveal of the Moto X. We also showed some press renders of the phone so we now have a good idea of what the finished article will look like. Although we've seen many rumored specs for the Moto X, they haven't yet been consistent. However a new set of specs has emerged of 'confirmed' specs, as proven by photos or other credible evidence.
We hesitate to use the 'confirmed' tag until we hear the official details from Motorola, but these specs certainly look credible. They include a 1.7GHz Qualcomm S4 Pro dual-core processor, Adreno 320 graphics, a display of around 4.7-inches with resolution of 1184 x 720, 2GB of RAM, and 16GB of internal storage (12GB user-accessible).
Other specs of the Moto X are said to include a 10.5-megapixel rear camera with flash, a 2.1-megapixel front-facing camera, 802.11a/b/g/n/ac Wi-Fi, NFC, and a 2200 mAh non-removable battery. It looks likely to run Android 4.2.2, which has been seen on units being tested, although many will be hoping it releases with Android 4.3 Jelly Bean.
This specs list has been put together by Android Police, based on FCC evidence, photos, and such like. As well as this, FCC docs show dimensions of 128.5mm x 65mm, and an XT1058 variant dubbed Ghost for AT&T, while benchmarks are an AnTuTu score of around 18.7K and 3DMark Ice Story Extreme score of around 7.1K.
Unfortunately it appears that there will be no expandable storage via microSD, which is likely to be a let down for some people as onboard storage is only 16GB. Going back to benchmarks, the AnTuTu score is less than results for the HTC One and Samsung Galaxy S4 but puts it close to the LG Optimus G Pro and slightly higher than the Samsung Galaxy Note 2. Graphics-wise the Moto X seems to have performed better than the competition, including the HTC One and Samsung Galaxy S4.
We know from comments to previous stories that many might have been hoping for rather more impressive specs, although there has been growing evidence over the last few weeks that top-notch specs might not be the priority of this phone. Instead it seems that Motorola is targeting the highlights of the phone to be new features, lack of custom skin bloat, and a speedy performance.
We're really interested to hear what readers think about these specs for the Moto X. If these turn out to be the final confirmed specs for the Motorola Moto X phone, are you satisfied enough? Maybe you feel disappointed and had hoped for more? Let us know with your comments.