Apple Developer system status update page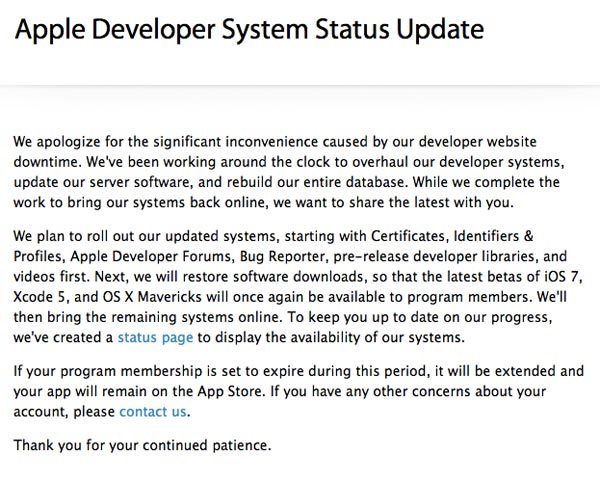 The fact that Apple's developer login is not working might seem obvious to our readers and developers viewing this news, but within the last couple of hours Apple issued another statement in regard to an Apple Developer system status update. They sent an email to developers and also updated their maintenance page when trying to login to the Developer Center.
Within the email that delivered a system status update to developers, they included a link to a special page setup to keep developers updated on the areas that are offline and online. You can see a screenshot from this status page below, which clearly shows iTunes Connect and the Bug Reporter are online. This would mean that you should still be able to submit apps for review, but feel free to bookmark the Apple Developer system status page.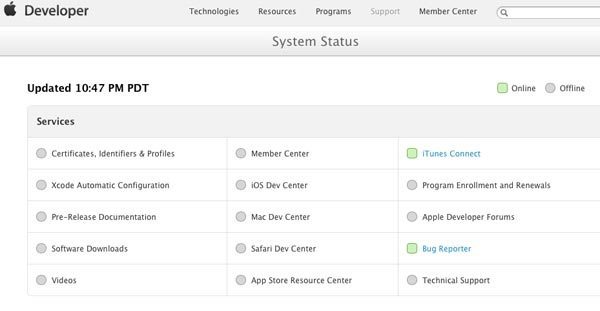 We already mentioned about the iOS 7 beta 4 launch not being helped by Mavericks Preview 4 going live, and you can gain some insight into the person taking responsibility for the hack in this article. The latest Mavericks download was accessed via the App Store.
Now you can check the Apple Developer system status page for an update rather than checking for iOS 7 beta 4 seeding within your beta 3 install, although this relates to the 6 million developers and those of you that installed the beta software on your iOS device. The status page will also let you know when you can add new Certificates and Identifiers.
You can read the latest update from Apple in the image below.