iOS 7 beta 4 fixes iPhone 4S, 5 crashing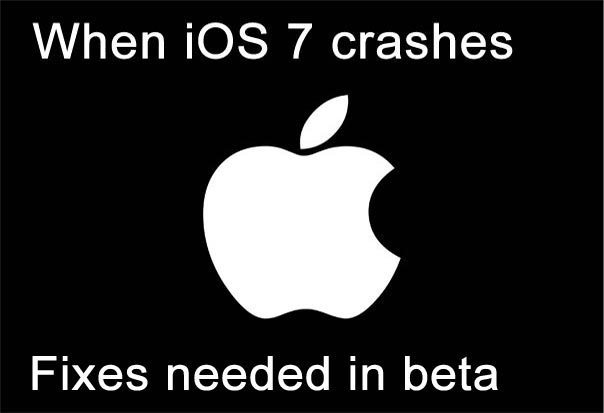 This article is a quick update about iOS 7 beta 4 and crashing on iPhone 4S and iPhone 5. We have touched base with our in-house developer testing our apps with the latest version of iOS 7 beta, and while our apps seem to be running fine it seems that the mobile software overall has some of the same problems seen in previous betas but some have been fixed.
We have received reports that iOS 7 beta 4 fixed the iPhone 4S crashing issues we first reported needed a fix when using beta 2. The phone would randomly crash to a black screen that followed with an Apple logo, then a restart into iOS 7. This seems to be fixed now on iPhone 4S running iOS 7 beta 4, but we did get word from a couple of our readers that are developers about the iPhone 5 crashing in the same way on beta 4.
Our developer has been testing iOS 7 beta 4 with an iPhone 5 and 4S since the download went live for developers, but he has yet to see any crashing on both phones. Feel free to hit the comments if you are running the latest beta and see crashing, or even other bugs?
Google Plus still crashing in iOS 7 beta 4 — as we predicted earlier, it seems that the problem with Google+ is one that the app maker needs to fix. Our tests reveal that the second time you open Google Plus and try to do something with the social app, it then crashes back to the home screen. This is exactly what happened in iOS 7 beta 3, so we hope Google fixes these issues soon as we know a lot of developers use Google Plus and want this problem fixed in iOS 7 as soon as possible.
We should also note that other problems in iOS 7 for some people include Music app headset controls not working, issues with the Photo Stream, plus a number of other apps crashing as expected considering it is still in beta. Two very popular apps that the creators need to fix for iOS 7 are Skype and Instagram.