Verizon Samsung Galaxy S4 mini release looks promising
At the moment no US carriers have the Samsung Galaxy S4 mini, but it looks all set to release soon with Verizon. New leaked photos have appeared online showing off the new device with model number SCH-i435 and the Verizon logo stamped on it.
We have already reported that the Verizon Samsung Galaxy S4 mini was noticed at the Bluetooth SIG, and now with these images it looks close to release. Maybe Verizon was holding off until after the launch of the HTC One, Moto X and the new Droid line-up.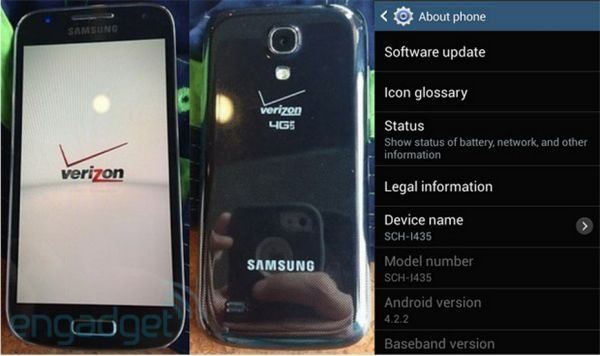 Some might say that the Samsung Galaxy S4 mini is old tech, but we would have to disagree because it still comes with a 4.3-inch Super AMOLED capacitive touchscreen with 540 x 960 pixels and 256 ppi, other main features include 8 GB of internal storage with only 5GB user availability, microSD card slot, dual-core 1.7GHz Snapdragon 400 processor, NFC and LTE.
This is not a shabby phone, it offers the above as well as 1.5GB RAM, 1900mAh battery, 8-megapixel rear camera, 1.9 MP on the front, Wi-Fi, Bluetooth and will come running Android 4.2.2 Jelly Bean operating system.
It is a great phone if you do not wish to have the bigger display version, but with all the Verizon phones set to release will this sell well? Now that is another question, it is just a shame Verizon did not release this sooner.
Below is a photo showing what the Samsung Galaxy S4 mini looks like side-by-side with the Apple iPhone 5, similar in size really.
If you are looking at buying a Verizon mini, would you prefer the HTC One mini, Droid mini or this Galaxy S4 mini?
Source – Engadget