BlackBerry Z30 aka A10 flagship shown on video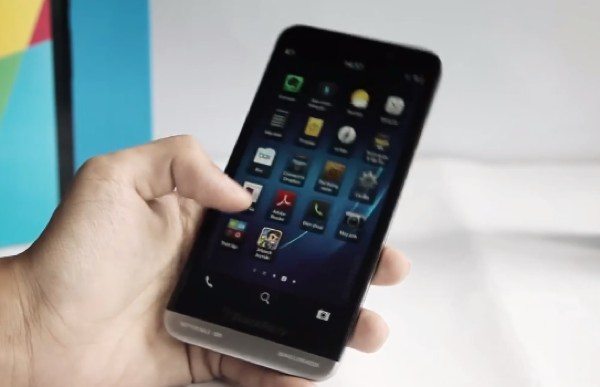 We've been bringing readers as much news as possible about the upcoming BlackBerry Z30 flagship smartphone, aka the A10. It's also being referred to by some people as the BlackBerry Aristo, and it will be the first BlackBerry 10 phone with a 5-inch display. Today we have a video to show you that purports to be of the BlackBerry Z30.
We have previously shown readers a leaked image that claims to be of the Z30 as well as some initial rumored specs, and the BlackBerry Z30 looks to be an all-touch device as the Z10 was. We cannot verify if the device shown in this video is the genuine BlackBerry Z30, but it certainly looks plausible as it closely resembles the earlier leaked image that we saw.
The video doesn't have an English narration, but it will give you a good look of the device and you can see the words "Not for sale" on the bottom front of the handset. You'll also get a look of the BlackBerry 10 UI and you may spot the AT&T logo on the reverse, although previously there have also been spots of a Z30/A10 bearing the Verizon logo.
The BlackBerry Z30 looks to be an attractive handset, but it's worth bearing in mind that the phone will have some extremely tough competition, with other devices such as the Apple iPhone 5S, Samsung Galaxy Note 3 and LG G2 all coming soon. Rumored specs for the Z30 so far include a 1.7GHz dual-core processor, 5-inch display with resolution of 1280 x 720, 2GB of RAM, an 8-megapixel rear camera and a 2800 mAh battery.
Earlier today we told how BlackBerry shares have risen on reports of a possible shareholder buyout that would give the company more time to restructure. However, it remains to be seen whether upcoming phones such as the Z30 will be enough to revive BlackBerry's fortunes. Why not check out the 6-minute YouTube video below that claims to show the BlackBerry Z30, and tell us what you think.
If this is the real deal, are you impressed with what you see? Would you consider purchasing the upcoming BlackBerry Z30 flagship smartphone? Let us have your comments.