iPhone 5C accelerated lifetime test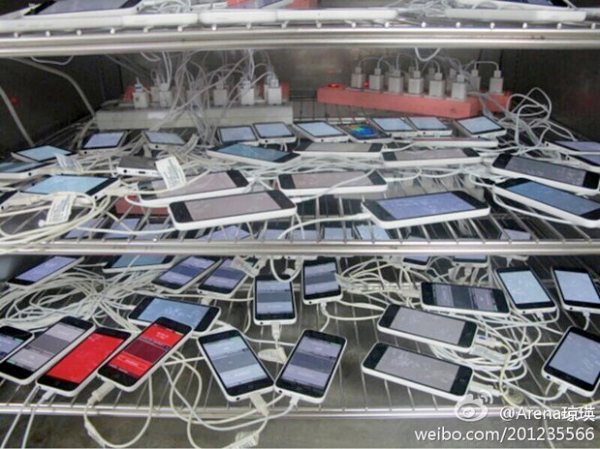 Over the past several weeks we have seen a number of leaked iPhone 5C images, and while we first thought them to be fake, there does seem to be continued evidence to the contrary. Take this latest image you see below, it shows a bunch of these new cheaper iPhones, and what was first thought to be a horde of knock-offs could actually be the real thing.
According to a recent report from Engadget, it now looks as though these bunch of iPhone 5Cs in what looks to be in a warm up process as part of their quality control, just to make certain they are in fully working order before being boxed up.
Having said that, we believe this would be an iPhone 5C accelerated lifetime test, in which case these units will not make it to the public. Whatever the case may be it is certainly strange that we are starting to see more Apple devices leaked ahead of their release.
We can't help be a little skeptical though because either this is not to be trusted, or Apple is not as hot on security as they once were?
Having said that, maybe this is all part of their plan because they know with tougher competition keeping people guessing could cause them to purchase elsewhere, and so feel the need to leak information out and make them look as though someone else has done so.
It wasn't that long ago when Tim Cook said Apple was going to be more transparent, but we have yet to see this, or maybe this is their funny way of being transparent by allowing these images to leak in the first place?
If the iPhone 5C is the real deal then with the new range of colors and aggressive pricing this will be perfect for boasting Apple's margins, although it is not like they needed the help in that department.