Sony Xperia phone with detachable lens depicted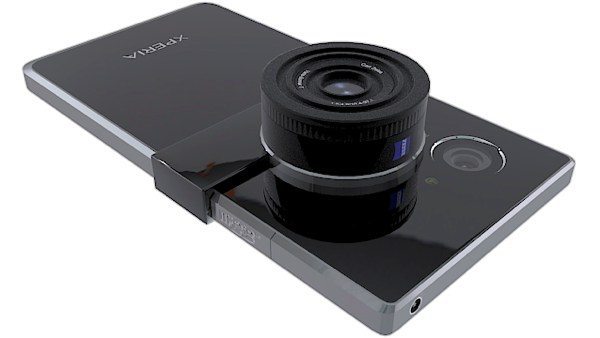 Recently we heard that Sony is developing detachable camera lens accessories for smartphones. These lenses are dubbed the Sony DSC-QX10 and DSC-QX100, and could be attached to existing devices, using Wi-Fi to connect. Now we get a look at what these accessories could look like as a Sony Xperia phone with detachable lens has been depicted.
We should point out that this is a concept design, but nevertheless it's interesting to see the possibilities of these Sony lens accessories. The lenses are intended to provide almost DSLR capabilities to camera smartphones and they could be attached magnetically to Android or iOS smartphones or tablet devices.
They are also planned to feature a built-in sensor, processor, and SD card port as well as NFC and Wi-Fi. The premium version is said to use the RX100MKII sensor and have a Carl Zeiss lens. The lesser version will have an f/3.3-5.9 Sony G lens with 10X optical zoom and 1/2.3-inch 18-megapixel sensor.
The concept that you can see here comes from Esato member Reeflotz, and give us some perception of just how these detachable lenses could work. You may also be interested in a previous concept from another Esato member that we shared previously, showing a Sony phone with DSLR detachable lens.
We really enjoy the work of concept designers and wonder what our readers think of this latest concept of a Sony Xperia phone with a detachable lens accessory? Do you think you would use these Sony lens accessories for your smartphone or tablet? Why not let us know by sending your comments.
Source: Esato