New iPhone 5S scratch test video fails to surprise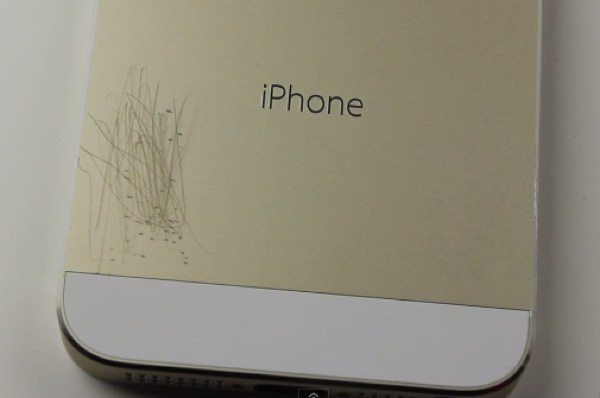 Unsurprisingly the upcoming iPhone 5S continues to be the subject of an abundance of leaks and speculation. We've recently been hearing about a likely gold/champagne version of the next iPhone, and now a new iPhone 5S scratch test video has failed to surprise us.
A gold-colored iPhone 5S has been rumoured for some time, and we recently showed a leaked image of this color variant. Further to this we then came across images of a possible gray colored iPhone 5S, so it does appear that the new iPhone will have more colors to offer than the previous slate and white.
Now a new video has been posted on YouTube, where a rather ruthless scratch test has been carried out on a purported gold iPhone 5S shell and also a black iPhone 5. We have embedded the 9-minute video for you below this story and as you can see, both casings seem able to cope well with light scrapes from a coin.
However, we weren't exactly shocked (and neither will you be) to see that when laid into with a pocket knife it's a different story. When moving on to being assaulted with a knife, both casings showed substantial damage, although the spoilage shows up more on the gold iPhone 5S than on the black iPhone 5. When you think about it though, not many devices would be able to shrug off this kind of treatment.
Some owners of the iPhone 5 previously reported that the chassis of the phone is susceptible to damage from scuffs and scrapes, and that this is more noticeable on the black version than the white model because the silver aluminum beneath is exposed. This became known as 'scuffgate' and marred the initial release of the iPhone last year. It's hardly surprising then, to see the results of this scratch test.
You can check out the video showing this gold iPhone 5S scratch test below, and see for yourself just how the casings were affected. It's important to remember though that this test took place on what is claimed to be a casing for the iPhone 5S in gold, but we have no way of knowing if this is the genuine article or not.
It won't be too much longer until we finally discover all about the iPhone 5S. An event is scheduled for September 10 to launch the new iPhone as well as iOS 7 and possible the iPhone 5C, known as a budget iPhone. We'd welcome your comments about this scratch test video on the iPhone 5S casing? Are you as unsurprised as us about the outcome of an attack with a pocket knife?