iOS 7 interface issue avoidance via new app icons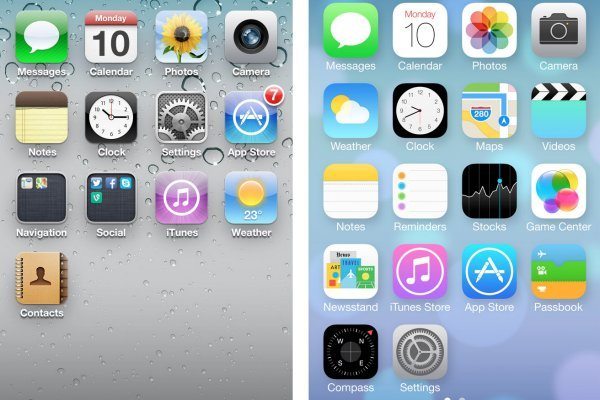 There has been a great deal of talk in regard to an iOS 7 beta 7 release, but it looks as though this is highly unlikely to happen now, and so this has since led to speculation as to the iOS 7 GA. However, before that app developers have some work to do with their app icons.
In the build up to the launch of iOS 7 next month, Apple has been asking app developers to partake in what can only be described as an iOS 7 interface issue avoidance. They have been asked to submit larger app icons as part of the dramatic UI change when compared to iOS 6.
You can see in the image below just how different the icons are, and although they do not vary that much in size, there is still a difference that needs to be addressed. It is Apple's intention to be ready so there will be no interface issues once iOS 7 is released to the public, which could be just a week after the (rumored) September 10, 2013 iPhone event.
According to 9to5 Mac the new iOS 7 icon size is 120 x 120 for the iPhone and 152 x 152 for the iPad, compared to 114 x 114 and 144 x 144 respectively for the iOS 6 version on those devices. It is clear to see the pixel resolutions have not changes by much, but just enough to cause issues of not addressed ahead of time.
iOS app developers will also need to address those round corners on iOS 7 apps, as they have rounded corners — looks like we will have a lot of updates the moment we download Apple's new mobile operating system on to our devices.
Apple has already started to train their AppleCare employees, but more importantly their technical support staff on the many changes of iOS 7. The training began a couple of days ago and is expected to have them fully prepped by the second week of September. Verizon has already told their staff they cannot book any vacation between September 18 and the 22, which could mean this will be when Apple release their new iPhone/iPhones.