Acer Liquid S2 with 4K video faces Galaxy Note 3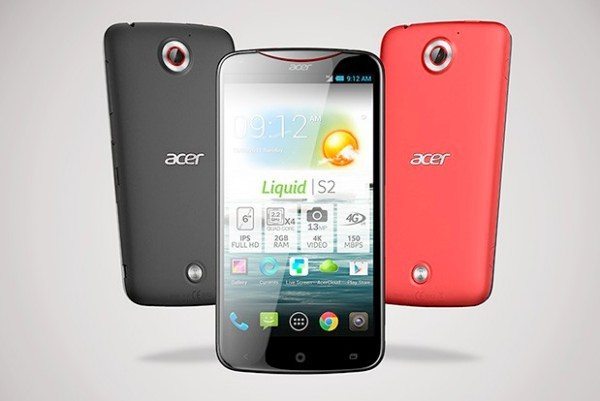 The Acer Liquid S2 phablet-style smartphone has just been announced, and we now know it will feature 4K video recording capability. This makes it the first smartphone with 4K functionality to be officially introduced, although the Acer Liquid S2 is likely to be facing competition from the Samsung Galaxy Note 3 in that area. The latter is due to be announced on Wednesday.
When we first gave some unconfirmed specs for the Acer Liquid S2, we noted that on initial details it could give the Galaxy Note 3 a run for its money. Our opinion on this hasn't changed now that the specs have been confirmed for the Liquid S2.
The Acer Liquid S2 features the much-coveted 2.2GHz Qualcomm Snapdragon 800 quad-core processor, a 6-inch Full HD IPS display, 2GB of RAM, and 16GB of internal memory (expandable to 128GB). It also packs a 13-megapixel rear camera with LED ring flash, a 2-megapixel front-facing camera, 4G LTE connectivity, and a nicely sized 3300 mAh battery.
The Liquid S2 will launch running the Android 4.2.2 Jelly Bean operating system. As well as 4K video recording the camera also has some neat software such as a "quick first shot" feature, a "favorite mode" and the option of being able to separately adjust focus and exposure.
The Acer Liquid S2 may be the first smartphone announced that offers 4K video functionality, but we recently told of leaks that suggest this will also be available for the Samsung Galaxy Note 3. In fact the Galaxy Note 3 may actually hit the shelves before the Acer Liquid S2.
All the signs are that it will release by mid to late September, while the Acer Liquid S2 is heading for a launch in late October. Also the Galaxy Note 3 will be sold in regions worldwide, while initially at least, the Liquid S2 will go on sale in Europe in black or red color options.
Official pricing remains unknown for both of these phones, though yesterday we discussed Samsung Galaxy Note 3 pricing and unconfirmed specs here. Dimensions of the Acer Liquid S2 are 166mm x 86mm x 8.9mm, and it does seem very likely that the Acer Liquid S2 and Galaxy Note 3 will be natural rivals to each other.
It will certainly be interesting to see full specs confirmed for the Galaxy Note 3 on Wednesday, and you can be sure we'll keep you informed. While we're waiting we'd like to know what your thoughts are regarding the Acer Liquid S2.
Maybe you were set to purchase the Samsung Galaxy Note 3 but may now consider the Acer Liquid S2? How much would you be willing to pay for the Liquid S2? Send your comments to offer your opinions.
Source: Engadget