WP8 GDR3 and Nokia Bittersweet update, new features video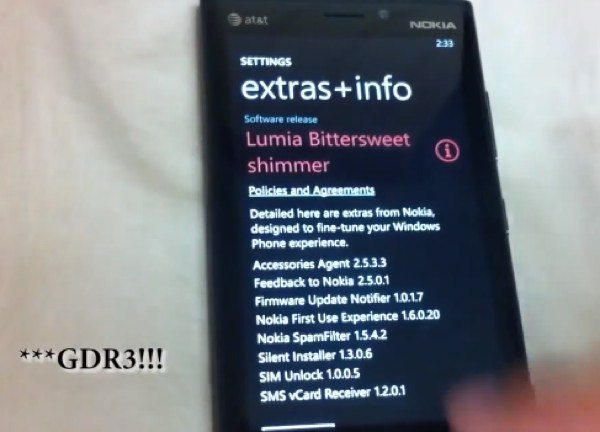 The Windows Phone 8 GRD3 update is on the way later this year and we've already heard leaked news and rumors about what it may offer. Now a Nokia Lumia device that was purchased via Craigslist has spawned a video reveal of some new features of the WP8 GDR3 and Nokia Bittersweet shimmer update.
The GDR3 update will bring quad-core processor support and also enable Full HD display resolution and it's rumored that the upcoming Nokia Lumia 1520 aka Bandit will be the first smartphone to benefit from this update. Recently there were also claims that the GDR3 update will bring some kind of notifications center to Windows Phone 8.
The new information comes from a developer model of the Lumia 920 that has offered a look at GDR3 update features. The GDR3 update will arrive alongside a Nokia update dubbed "Lumia Bittersweet shimmer." Screenshots on WPCentral revealed that the update will give users the ability to close apps more easily on a multitasking window, and also give users the option to disable the accelerometer. Another screenshot shows a Driving Mode feature.
Now the same owner of the Lumia phone revealing these features has posted a video on YouTube. He's covered his face to remain anonymous but if you can get over that then the video offers a look at a couple of the update features.
We've embedded the video below this story that shows the Glance Screen and how notifications will look. It also shows one of the features mentioned above that will enable multitaskers to close apps by simply hitting the X on the top right of the display.
Other update features mentioned so far include the ability to establish different sounds for calls, email, texts and reminders. Also, if users need to reset the phone they will be able to restore over Wi-Fi.
We'll bring you more on the WP8 GDR3 and Lumia Bittersweet updates as we hear news, but for now we'd like to know what you think of GDR3 and Bittersweet so far. Are you looking forward to the arrival of these updates and what they have to offer?