iPhone 5S A7 chip with 64 bit features disputed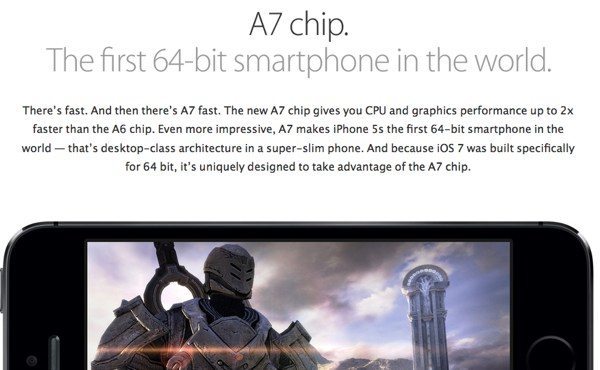 When Apple introduced the iPhone 5S just a few days ago, one of the major points it made about the device was its new 64-bit chip. It made a great deal about the fact that it was the first 64-bit smartphone in the world, and most of us were pretty impressed. However, it appears that now the iPhone 5S A7 chip with 64 bit features is being disputed.
Apple claims that the new A7 chip offers graphics and CPU performance that can be up to two times faster than the previous A6 chip. The giant manufacturer also asserts that the new 64-bit chip gives desktop-class architecture to the iPhone.
The A7 processor used in the iPhone 5S is claimed to deliver the kind of graphics and visual effects that were previously only available on computers and gaming consoles, and at the recent event keynote we saw an impressive demo of Infinity Blade 3 taking full advantage of 64-bit technology.
The new 64-bit A7 chip also will boost video download and social media speeds, although we should remember that improvements to the camera set-up and features and also the new fingerprint sensor are likely to need the extra processing power.
This all sounds extremely impressive, and it's certainly easy to be swayed by Apple's marketing with regard to the significance of the 64-bit chip. However, not everybody is as convinced with Apple's promotional rhetoric, with one report even describing it as deceiving.
Although ITProPortal isn't necessarily against the 64-bit chip and acknowledges certain benefits of the new A7 processor, the site seems to feel that the fact that Apple is the first to release a phone with a 64-bit mobile processor is largely irrelevant.
The report discusses the benefits of using 64-bit architecture such as increased RAM, as 64-bit operating systems enable up to 16 exabytes of memory. It goes on to discuss desktops and laptops using 64-bit chips, with the first 64-bit consumer chip developed by AMD ten years ago. However it's then pointed out that over half of gamers are still using 4GB of RAM or less, despite the fact that 75% are now running 64-bit operating systems.
It then notes the improbability of Apple releasing an iPhone with more than 4GB of RAM (already possible with 32-bit architecture) before going on to discuss the second benefit of using 64-bit, basically to "clean up all the cruft and garbage left in a previous implantation of a 32-bit chip."
Although the A7 could well offer a faster performance than the A6 processor, the 64-bit part of the equation is defined as merely a marketing tool and "not a genuine performance boost." Ultimately, ITProPortal is simply not persuaded about the need for 64-bit architecture for mobile devices and dismisses it as marketing hyperbole, although many others will no doubt disagree.
Earlier today we discussed the possibility of a 64-bit chip coming to the iPad 5 or iPad mini 2, following its arrival for the iPhone 5S. However, after reading these claims we must admit that now we're not quite sure what to think. We're particularly interested in your thoughts on this and would like to hear your comments.
Are you convinced that the new 64-bit A7 chip for the iPhone 5S is as big a deal as Apple is putting forward? Maybe you are now more inclined to believe that it's more of a marketing tool than anything else?