Nexus 5 with large camera possibly seen in FCC filing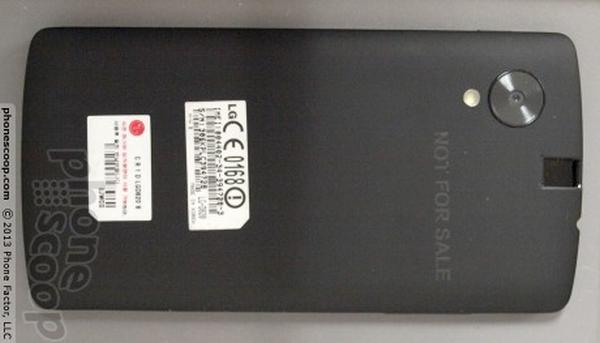 The anticipation for the next handset from Google that will come wearing the Nexus badge is growing by the day, and so is the likelihood that the device will again be manufactured by LG. Now today it seems that the Nexus 5 has possibly been seen in a FCC filing along with images of a handset that has a large camera lens.
It certainly seems that the possibility of LG being responsible for the Nexus 5 are increasing by the hour, and now the image that you can see on this page courtesy of Phone Scoop were found in a set of documents that LG supplied to the FCC.
This was for a so called "class 2 permissive change", and the filling is asking for permission to alter the position of the antennae and other internals for a Verizon version of the LG G2. The images don't resemble the LG G2 though and the device does look a little similar to the Nexus 4.
The rear of the handset matches the device that was seen at the unveiling of the KitKat statue last week, but this device will probably not be the final design that will be released to the public and will likely have some cosmetic alterations.
What we can see though is that the volume controls and the power button on the sides which are different from the LG G2. It is now thought that the handset codenamed LG D820 is actually going to be the Nexus 5 after it was spotted previously on the FCC database.
The handset is widely believed to be based on the LG G2 with a 5-inch Full HD display and powered by the quad core Qualcomm Snapdragon 800 processor, and it is expected to arrive sometime next month in time for the busy holiday season.