Android 4.3 seen on Galaxy S3, no S4 features coming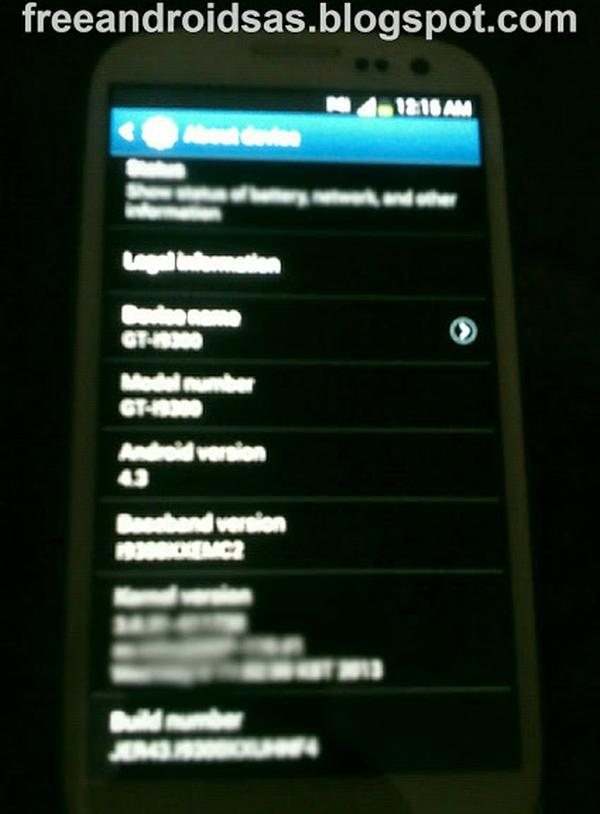 Despite being over a year old now there are millions of owners that are still enjoying their Samsung Galaxy S3's, and the device is still readily available in many regions around the world. Today we have news that the Android 4.3 update has been seen on the Galaxy S3 but no S4 features are expected to be coming with the new firmware.
The software must be getting closer to release as last week it was seen in some benchmarks on an AT&T version of the device, and the Android 4.3 Jelly Bean update is set to be released next month for the device along with the newer Galaxy S4.
Now the blurry image that you can see on this page comes courtesy of AndroidSAS and shows the Galaxy S3 running the software, and you can see the model number of the handset along with the version of the Android OS its is running. Obviously the firmware is still being tested ahead of its October release, but the update may disappoint many owners of the handset.
Shortly after launching the Galaxy S4 Samsung revealed that a lot of the new features will eventually find their way over to the S3 and the Galaxy Note 2 in future updates, but sources are claiming that the Android 4.3 update will only bring with it some bug fixes, security improvements, and the new features that are found in the Android OS.
There is still hope that the features will be added to the firmware before it gets a public release, as the handset has been sitting on Android 4.1.2 for a number of months now.
Will you be disappointed if the S4 features fail to arrive with this update?