iPad 5 and Mini 2 price expectations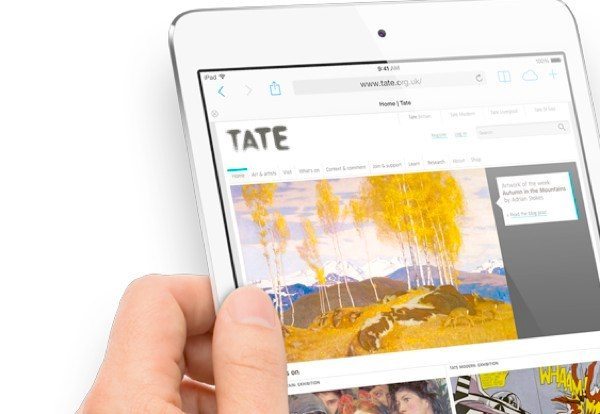 The iPad 5 and iPad mini 2 tablets are the next big mobile device launches that we expect from Apple. We've recently heard rumors of an October event to officially introduce the new iPads, so today we want to discuss iPad 5 and mini 2 price expectations.
Both devices have been the subject of plenty of rumors and leaks, and although we have seen many leaked images of casings giving us a hint of designs, there has been very little information leaked about specifications. Recently there have been some pointers from inclusions with the just-released iPhone 5S though.
For example the iPhone 5S has a new 64-bit A7 processor, so of course it seems likely that this could come to one or both of the new iPads. Other possibilities are the new M7 chip, improved cameras and features, and the prospect of increased battery life.
One of the most speculated additions though is the arrival of sapphire crystal home buttons incorporating a fingerprint sensor, as also appeared on the iPhone 5S. Also those looking forward to the new iPad mini will be hoping that this time around it has a Retina display.
Hence, there are prospects of many new additions for the iPad 5 and iPad mini 2, and of course there could be some new inclusions that we haven't noted here. So how will all of these upgraded specs and improvements influence the price of the new iPads?

There's some good news here as we feel that the pricing will probably be the same as for the current iPad and iPad mini when they first released. It's easy to assume that prices may need to go up to take into account the improved specs that are anticipated, but in fact although some of the new components may be more expensive, other standard components are likely to have reduced in price.
Apple has long shown a pattern of trying to maintain pricing for new devices and keeping prices the same as the models that were previously released. This has recently been shown with the iPhone 5S, which released at a starting price of $199 on contract, exactly the same as for the iPhone 5. The iPhone 5S had plenty of upgraded specs and yet didn't increase in price from its predecessor, and so there's no reason to think that Apple will depart from this example with the new iPads.
When the iPad 4 released last year the base level Wi-Fi 16GB storage option was priced at $499, with the 32GB variant at $599 and 64GB model at $699. Now there is also a 128GB version at $799. The Wi-Fi + Cellular models are priced at $629, $729, $829 and $929 respectively.
The original iPad mini comes in 16, 32 or 64GB storage options, with Wi-Fi models priced at $329, $429 and $529 respectively. Wi-Fi + Cellular models are priced at $459, $559 and $659. Although nothing is set in stone, we don't expect the iPad 5 and mini 2 to increase from these pricings. Even if the prices do go up we don't anticipate any more than slight increases.
A launch date for the iPad 5 and iPad mini 2 has been rumored for October 15, although this is unconfirmed. All being well though, it shouldn't be too much longer until we hear confirmed specs, release dates and pricing for the new Apple iPads.
Are you a potential customer of either the iPad 5 or iPad mini 2? We feel our price expectations for the tablets are realistic, but do you agree? If the iPads do release with higher prices than the current models, how much more would you be prepared to pay? Send your comments to let us know.