Verizon Galaxy Note 3 price teases free activation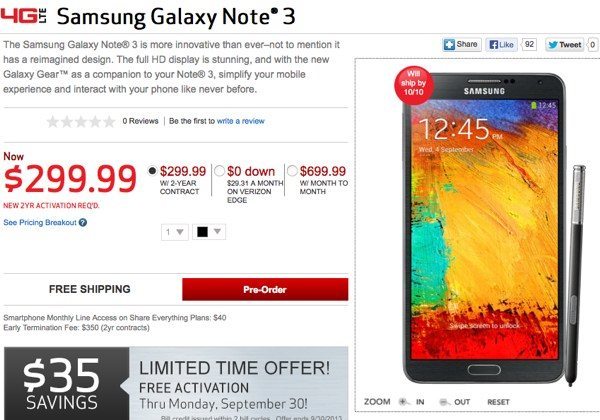 The Samsung Galaxy Note 3 has already released in various regions but has yet to be launched in the US. However, it is coming soon to major carriers and one of those is Verizon. At present the Verizon Galaxy Note 3 price teases free activation, but you need to be quick.
We've recently given some early details about the release of the Galaxy Note 3 on Verizon and also Sprint, as well as other world regions such as MENA. Now pre-orders for the Note 3 are available at Verizon with a price of $299.99 on a new two-year contract.
If you pre-order right now with Verizon there's a limited time offer for free activation, but haste is required as this offer only runs through September 30, and that of course is tomorrow! It will save you $35 though so it's definitely worth considering.
The small print for the offer says that a bill credit will be issued within 2 bill cycles. For more details on the Galaxy Note 3 or to pre-order (including free shipping) please head to this Verizon page. Verizon states that the phone will then ship by October 10.
As a quick reminder, this is a notable smartphone that packs a 2.3GHz quad-core processor, has a 5.7-inch Super AMOLED display with resolution of 1920 x 1080, and 3GB of RAM. It also has a 13-megapixel rear camera, a 3200 mAh battery, runs Android 2.3 Jelly Bean, and makes use of the S Pen stylus.
Are you about to pre-order the Galaxy Note 3? If so, will you be ordering it quickly through Verizon to take advantage of the free activation offer? Let us know with your comments.