iOS 7.0.2 update problems on iPhone 5S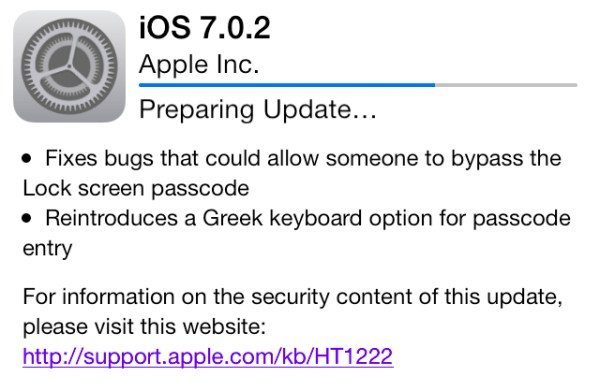 Apple's iOS 7 only released recently but was swiftly followed by an iOS 7.0.2 update that contained bug fixes for security flaws. iOS 7 itself was not without some problems, but it appears that there are also iOS 7.0.2 update problems on iPhone 5S.
Yesterday we discussed why some of the issues surrounding iOS 7 should not put people off updating. Some of those problems included battery drain, apps crashing, fingerprint sensor hacks, and a bug that could allow someone to bypass the passcode on the lockscreen.
Apple's iOS 7.0.2 was issued to fix the passcode security vulnerability, but some owners of the brand new iPhone 5S are now having problems since the update. We have had comments and emails about this from readers, and a look around support forums reveals plenty of iPhone 5S owners are pretty frustrated and upset by what is happening.
The iPhone 5S launched running iOS 7, but some people are saying that the 7.0.2 update has bricked their phones. One user says when he first used his new iPhone it was working smoothly, but that when he updated to 7.0.2 there were issues with the download taking longer than expected.
After the update finally installed, his device has been totally stuck at the startup screen. Despite several attempts, the phone is still unworkable. We have now seen this experience echoed by other iPhone 5S owners and the same issue has also affected earlier iPhone models such as the iPhone 4S and 4.
We have also seen comments from some other iPhone 5S users about a color bug on the device since the iOS 7.0.2 update, where the color effects have been lost. Other issues noted include multigestures being disabled and iTunes not starting.
Another problem for some iPhone users is that errors are showing when trying to update to iOS 7.0.2 in the first place, while there are also reports that for other iPhone users the update doesn't even appear to be available. All of this is rather vexing for owners of the iPhone 5S and some of the other iPhones that appear to have been affected by the Apple iOS 7.0.2 update.
Of course these may be isolated incidents, so it would be interesting to hear from readers about this. Do you have an iPhone 5S or other iOS devices that has been detrimentally affected by the iOS 7.0.2 update? If so, what is your iOS 7 problem? Let us know with your comments.