Nexus 5 release preceded by Spigen cases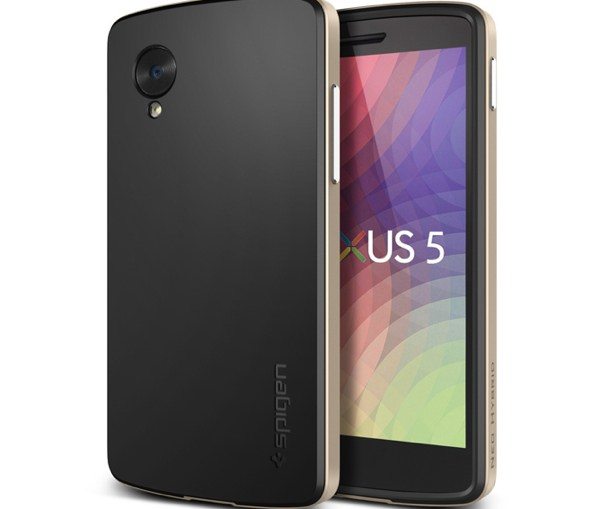 As far as anticipation for upcoming devices is concerned the Google Nexus 5 smartphone is at the top of the tree right now. The Nexus 5 release date is expected to be announced at any time, and every day there are further rumors regarding the launch. Another promising sign has arrived with Nexus 5 cases being made official by Spigen.
Earlier today we gave you the latest details about the expected arrival of the Nexus 5 and it's looking very likely to be at the very end of this month or early November. This ties in nicely with a leak that we informed readers about last week of a Nexus 5 case made by Spigen that had a release date of October 30th.
Now Spigen has made its Nexus 5 cases official and they have now appeared on the Spigen website. There are three cases listed and the first is the Nexus 5 Neo Hybrid Case that has a price tag of $29.99 and shows a shipping date of "end of October." It comes in Metal Slate, Satin Silver or Champagne Gold color options.
The Nexus 5 Slim Armor Case is also listed at a price of $24.99 with availability also showing as the end of October. This case comes in Smooth Black, Champagne Gold or Infinity White color options.
Thirdly there's a Nexus 5 Ultra Hybrid Case at $24.99 in black or gray. This is listed simply as a "web exclusive" and doesn't show any shipping date yet. You can see much more about all of these cases at this Spigen page and we've got to say they do look very stylish.
We'll continue to bring you Nexus 5 news in the wait until the big announcement and beyond so do check back with us. If you're considering purchasing the Nexus 5 on release will you also think about buying one of these Spigen cases? Send your comments to let us know.