Android Jelly Bean updates increasing share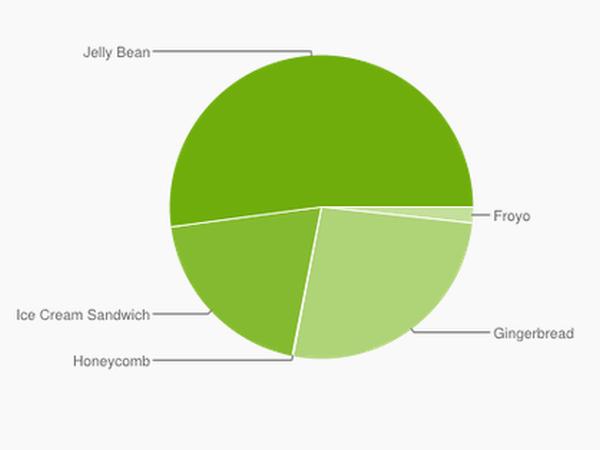 Google is looking to ease the Android fragmentation with the release of 4.4 KitKat as the firmware will offer support for lower spec hardware, but the increasing amount of Android Jelly Bean updates has seen the version of the OS increasing its share.
The latest figures have been revealed that show that Android Jelly Bean is now on over half of all active Android hardware, which comes from official figures from Google. It now accounts for 52.1 percent of the platform with Android 4.1 being the bulk of this with 37.3 percent, 4.2 is on 12.5 percent, and Android 4.3 Jelly Bean is now on 2.3 percent.
These figures are gathered during a seven day period that ended on November 1st from Android hardware connecting to the Google Play Store. Android 2.3 Gingerbread is still in second place accounting for 26.3 percent of all hardware while Android 4.0 Ice Cream Sandwich is lying in third place with 19.8 percent.
This news comes after we heard that Android now accounts for over 80 percent of the global smartphone market during the third quarter, and after Google launches yet another version of the operating system in the form of 4.4 KitKat that so far is only available on the Nexus 5.
Considering that Android 2.3 Gingerbread first made an appearance back in 2010 it is still being used on a number of devices, but many owners of more recent hardware will be hoping their device will eventually be treated to the most recent version of the Android OS.
Which version of Android is your mobile device using?