Nexus 10 price for India at last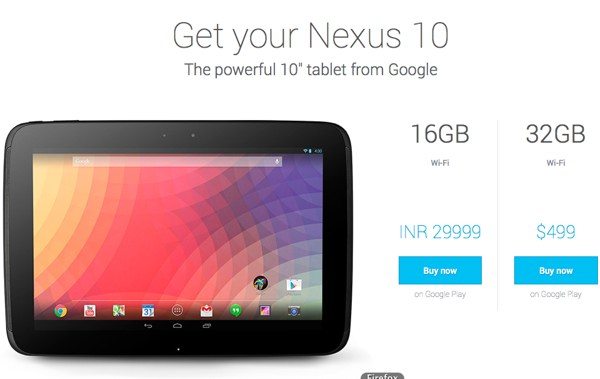 The Google Nexus 10 tablet released last year but still hasn't made its way to all regions, despite the fact that a Nexus 10 2 is rumored to be on the way. If you're in India and want the Nexus 10 though then it looks as though it will be available there very shortly on the Google Play Store. The Nexus 10 price for India has also been listed at last.
We have many readers in India and despite some devices releasing at the same time as other regions of the world, one complaint we often hear is that smartphones and tablets can take an age to release after they have been launched elsewhere.
The Samsung Nexus 10 is one such case, but it has finally shown up on the Google Play Store India, shortly after the new second-generation Nexus 7 2013 tablet also became listed. The 16GB model of the original Nexus 10 now has a price tag of Rs. 29,999, but the 32GB model only has a US price of $499 showing so far, that equates to around Rs. 31,150.
At the moment there's no release date showing on Google Play Store India although the buy now options are displayed. However, clicking on either of these simply tells you that the device is not yet available.
As the Google Nexus 10 is now showing on the Play Store though, it shouldn't be too much longer at all before it goes on sale to customers in India. This also applies to the Nexus 7 2013, which we previously informed our readers in India about.
Please remember though, that the Nexus 10 that is now on the Indian Google Play Store is the original version and not the new Nexus 10 that is expected to release soon.
The Google Nexus 10 that looks to be arriving shortly for India has a 1.7GHz dual-core processor, a 10-inch WQXGA display with resolution of 2560 x 1600 and 300 ppi, and 2GB of RAM. This Android tablet comes in 16 or 32GB internal storage options (non-expandable), has a 5-megapixel rear camera, 1.9-megapixel front-facer and a 9000 mAh battery.
If you scroll down to the bottom of this Google Play Store India page you'll see the 16 and 32GB options of the Nexus 10. Have you been keenly waiting for the Google Nexus 10 to arrive for India? Maybe you've purchased another tablet now as the Nexus 10 took too long to arrive? We always appreciate comments from our readers in India, so please do send them in.