Samsung 64-bit processor again confirmed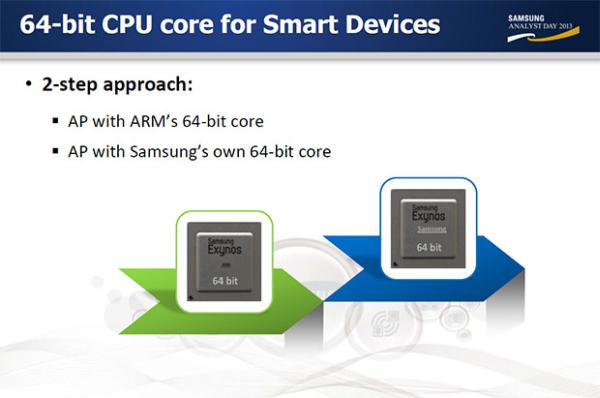 Mobile technology is constantly evolving with advancements arriving all the time and away from Full HD displays we are seeing the processors powering them become even better. Now the Samsung 64-bit processor has been confirmed again by the company which is thought will make its debut inside the Galaxy S5 when it is released next year.
Back in September we heard Samsung's Shin Jong-kyun stating that its next line of flagship handsets would feature its own 64-bit processor, which has been tipped to make its debut with the release of the Samsung Galaxy S5.
Now at the Samsung Analyst Day 2013 event the company has confirmed the existence of such hardware with Samsung LSI's Dr. Stephen Woo confirming the news. There was no release date given but he did state that progress is "marching on schedule".
This news comes after we recently heard that mass production was rumoured to be about to start with it being called the Exynos 5430 with only a small minor tweaks now needed. The company is going to adopt a two step approach with the hardware by utilising ARM's 64-bit core technology, with the second step being optimised by Samsung for improved performance.
While processors get more powerful with 64-bit technology manufacturers can take advantage of this by increasing the amount of RAM a mobile device has, and the Galaxy S5 specs are rumoured to bring 4GB of this.
Are you looking forward to Samsung smartphones using 64-bit technology?
Source: Sammy Hub.