Sony Xperia Z Android 4.4 custom ROM for download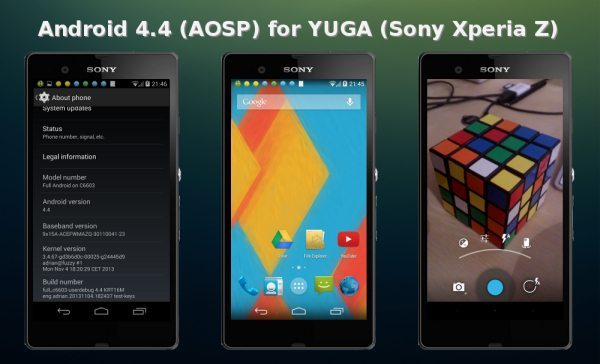 The latest Google Android 4.4 update is rolling out slowly to smartphones, the Nexus 5 is already on sale and comes with the OS pre-installed. There are many phones that do not have the update yet such as the Sony Xperia Z, so here are a few details on the new Android 4.4 custom ROM.
Earlier today we learned that the Samsung Galaxy Note 3 Android 4.4 testing was underway, and yesterday we reported that Android 4.4 KitKat custom ROMs were being released for multiple devices including the Xperia Z.
Well, now we can provide you with the link to XDA Developers forum (Below) where you can get the Sony Xperia Z Android 4.4 KitKat custom ROM.
The custom ROM is based on AOSP and is said to be stable, the Wi-Fi, texts, camera, GPS and many more seem to all be working fine in this ROM. There are two apparent problems in the ROM and these include the first being the manual selection of a mobile network, where the "Please wait…" dialog stays even after the Xperia Z is registered on a network, but when the Home button is tapped it makes the dialog vanish.
The second glitch is the 'Calendar sync with Google', might need a fresh install here, but by rebooting the device twice seems to get the Calendar syncing again.
This ROM also provides the compatible Google apps package, it also comes with the Nexus 5 style lockscreen, in version 3.2, which was released yesterday needs the new gapps package, this needs to be put onto the SD card before flashing the update. The details also lists: Include Launcher 3 (AOSP version of the new KitKat launcher and more, please do download here.
Will you download the new Sony Xperia Z Android 4.4 custom ROM?