HTC M8 release and carrier availability rumour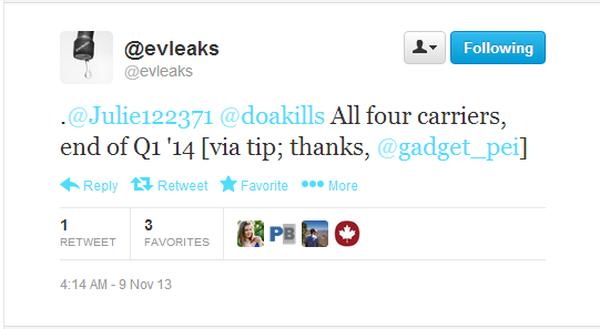 As we get closer to the end of this year the rumour mill is cranking up with regards to the flagship smartphones we can expect to see in 2014, and one that is expected to be seen first is the arrival of the replacement for the HTC One. Now there are rumours of a release and carrier availability of the HTC M8.
We have been hearing quite a bit about the HTC Two that is currently going under the code name of HTC M8, which recently provided some images that were claimed to be the device. Now often reliable tipster's evleaks has taken to Twitter and claimed that all four major carriers will have the smartphone available to customers by the end of the first quarter of next year.
If accurate this will please Verizon Wireless customers that had to sit and watch rival US carriers stock the HTC One months before the network finally released it. Not much is currently known about the handset but the device may have some sort of fingerprint scanner on the year following the recent leaked images.
You would have thought that the device would have at least a 5-inch Full HD display along with the quad core Qualcomm snapdragon 800 processor under the hood with at least 2GB of RAM. The device is expected to debut the HTC Sense 6.0 Android overlay as well along with Android 4.4 KitKat.
The unveiling of the device expected to take place at next year's Mobile World Congress event in February, unless the company decides to start holding its own separate showcase just like Apple and Samsung.
Are you looking forward to the HTC One replacement?