Samsung grabs phenomenal Android device share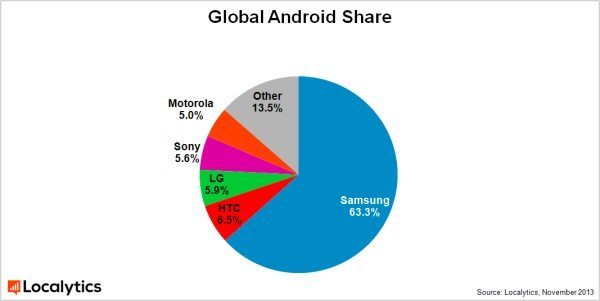 It's always interesting to look at the latest smartphone share figures and the latest research makes it quite clear that Samsung now grabs a phenomenal Android market share. We all knew that Samsung was the dominant force in Android mobile devices, but it's staggering to think that 63.3% of Android share is now made up of Samsung phones, tablets or phablets.
That is a convincing measure of Samsung's mobile market success by anyone's account. It's even more remarkable if we take into account that the combined efforts of Sony, Motorola, HTC and LG only total 23% of Android device share, with other Android manufacturers making up the remainder.
When looking at the figures for smartphones in particular, 8 out of 10 of the most popular Android phones are Samsung-produced. In fact the top 7 places are Samsung phones. The Galaxy S3 is in top spot on 15.1% followed by the Galaxy S4, Galaxy S2, Galaxy Note 2, Galaxy S3 Mini, Galaxy Note and Galaxy Ace in that order.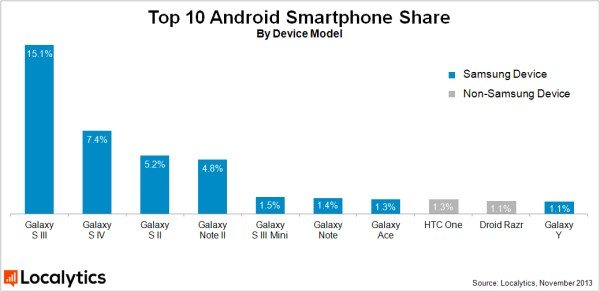 If specifically considering tablets, Samsung makes 5 of the top 10 Android devices, including the Galaxy Tab 2 7" that takes first spot with 21.8%, Galaxy Tab 2 10.1", Galaxy Note 10.1", Galaxy Tab 10.1" and Galaxy Tab.
If anyone was unconvinced about Samsung ruling the roost where Android devices are concerned, these latest figures should blow any remaining doubts out of the water. It does make us wonder what it will take for other Android device manufacturers to reach more of a level footing, but it looks as though that could be some time away yet.
You may also be interested in two of our recent articles, the first reporting on global smartphone marketshare by operating system in Q3, and the second concerning Apple vs. Samsung in US smartphone share for Q3.
It would be interesting to hear what readers think about the major force of Samsung and its success when it comes to Android devices? Do please send us your comments on this.
Source: Localytics