Amazon app choice in time for Christmas shopping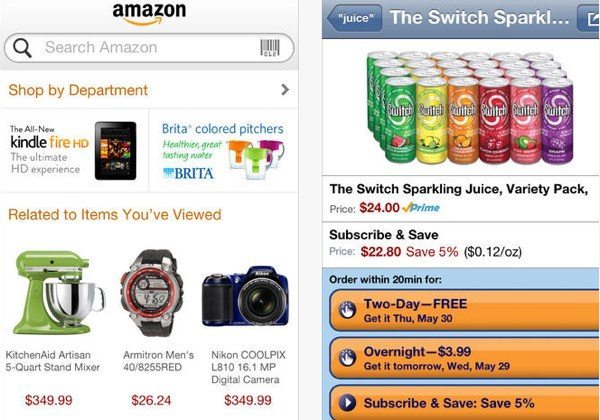 Christmas is most definitely in the air and very soon you won't be able to go near the stores without hearing festive music and jostling piles of shoppers. While some people may love browsing in busy shopping malls, for others it's more of a chore. That's where Amazon app choices in time for Christmas shopping could come in really useful.
We have details of iOS and Android apps for Amazon that are designed to make your shopping experience much easier and stress-free. Both have recently been updated in time for the busy holiday season.
If you have an iOS device you might want to check out the Amazon Mobile app for iPhone, iPad and iPod touch. This is a free app and is compatible with devices running iOS 5.0 or later from iTunes here. This app will enable users to browse Amazon, search for goods, obtain product details, look at reviews and purchase from a choice of millions of items available from Amazon.
Users can sign in with an existing Amazon account for payment and shipping options, or to access their carts, without having to create a new account. It's also possible to track orders and use the benefits from Prime membership. One of the most useful features is the ability to check availability or compare prices by snapping a picture, typing your search, or simply scanning a barcode.
For those who have an Android device take a look at the Google Play Store here for the Amazon app. This is also a free app and compatibility varies by Android device. It has many of the features of the iOS version above, and users can also sign up to receive notifications of Lightning Deals.
The latest Android Amazon app update now makes this app suitable for those in India as well as those in other regions worldwide and includes bug fixes and improvements. It also has a very high rating by other users so comes highly recommended.
Some readers may also be interested in the Gift It for iPhone app that will also help with seasonal shopping. Will you be making life a bit easier this holiday season by using one of these Amazon apps for a mobile shopping experience? Let us know with your comments.