Samsung Galaxy Note 3 pink version closer for all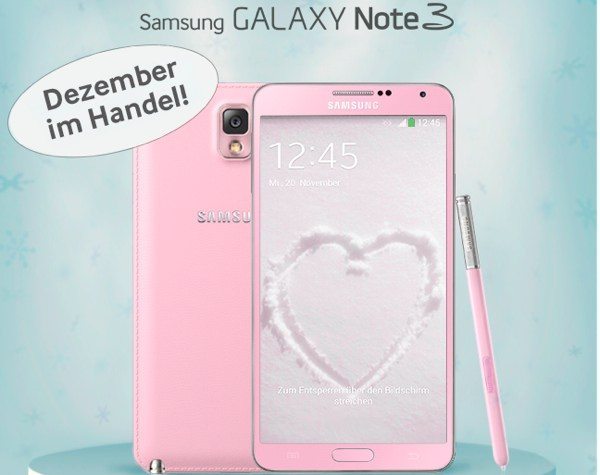 The Samsung Galaxy Note 3 smartphone is already a big success and plenty more people will be intending to purchase one over the busy holiday season. If you've been waiting for the blush pink color option to arrive then it looks as though the Samsung Galaxy Note 3 pink version is closer for all.
Although the Galaxy Note 3 was announced with three color options, for many people the black or white versions have been the only models available so far. For those in the UK the pink Note 3 has been exclusively available through Phones 4u, and the pink Galaxy Note 3 has also been available for a while in South Korea.
Now it's reported that the pink Galaxy Note 3 is to release in Germany in December at a price of 749 Euros for the 32GB option, fortunately in time for the holiday season. Once this color choice is launched in Germany it looks likely that availability will soon spread to other regions.
Therefore if you particularly want the pink variety of the Galaxy Note 3, it may be worth holding on a little longer to see if it becomes available in the coming weeks where you are. There have also been some very nice promotions for the Galaxy Note 3 just recently.
For example if you're in the UK you may be able to pick one up and get a free Samsung tablet. For those of you in the US, buyers of the Galaxy Note 3 over the next few weeks can get a $50 Google Play credit.
Have you been waiting for the Blush Pink Samsung Galaxy Note 3 to arrive in your region? Let us know with your comments.
Source: Samsung Mobile Germany (Facebook) Via: All About Samsung (Google Translated)