Samsung Galaxy S4 vs Google Nexus 5 video review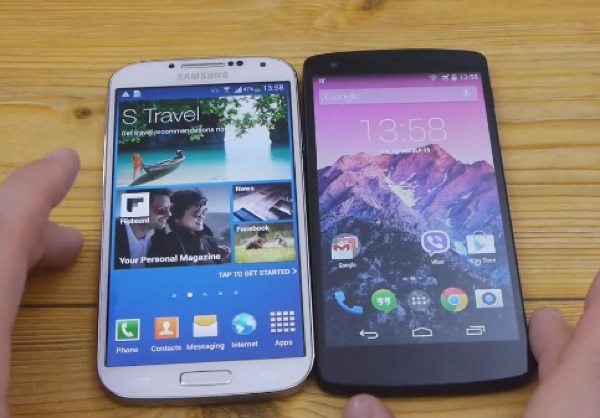 The Galaxy S4 is Samsung's flagship smartphone that released earlier this year. On the other hand the Google Nexus 5 made by LG has only been on sale for a few weeks. Many people thinking about purchasing an Android smartphone may be considering one of these handsets, so today we have a Samsung Galaxy S4 vs. Google Nexus 5 video review for you.
Both of these smartphones have been widely praised, with the Nexus 5 having a particularly competitive unlocked price. The Galaxy S4 is readily available as it's been on sale for several months now. However, the Nexus 5 has seen big initial demand with shipping times changing constantly on the Google Play Store, or sometimes listed as out of stock.
Sometimes, watching a video can give you a clearer picture of what different phones have to offer against each other, as well as giving a good look at a device before you decide to purchase. Below this story we've embedded a 16-minute YouTube video that offers a very good overview of both phones and how they compare.
The video begins with checking out the designs, where you can see that they are very similar in size. There are then descriptions of the displays of these handsets before moving on to looking at the operating systems and software experience, with the obvious difference being that the Nexus 5 runs pure vanilla Android while the Galaxy S4 features Samsung's TouchWiz user interface.
Details of the processors and performance are then given, but when looking at storage it's noted that the Galaxy S4 offers expandable storage via microSD, not available on the Nexus 5. There is plenty of detail on other key specs as well as a tour of the camera set-ups, including sample images and video footage.
Finally, some pros and cons of each are noted before a discussion about the pricing of the Galaxy S4 and Nexus 5. We feel this video comparison offers some excellent insight if you're thinking of buying either of these notable Android handsets, but we'll let you decide which is the best choice for you.
You may also be interested in checking out a Nexus 5 vs. HTC One comparison or a camera comparison of the Nexus 5, Galaxy S4 and LG G2. When you've taken a look at the video below we'd appreciate your comments.
Do you have a preference for either of these smartphones? Which would you choose from the Samsung Galaxy S4 and Google Nexus 5, and why?