Oppo N1 release and pricing set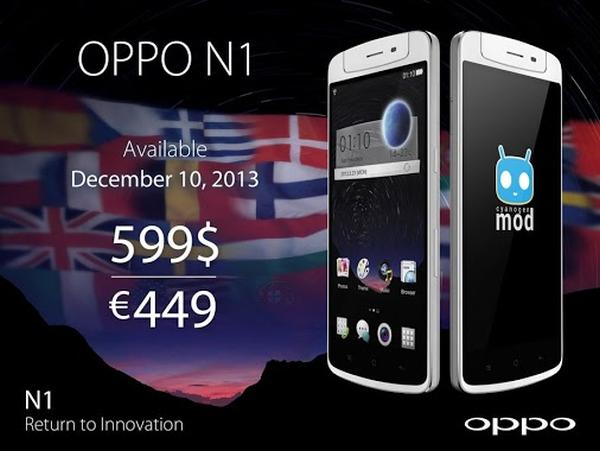 It is not unusual for upcoming flagship smartphones to have most of their details leaked long before they are made official by the various companies, but now the Oppo N1 release and price has been set by the company itself.
We have long heard rumours about the next flagship smartphone from Oppo that have included the specs and the possible release date, and now the company has put up a website page revealing when the handset will be available and by how much.
The Oppo N1 will be available from December 10th and priced at €449/$599 and the company has also provided a page that will provide those interested in buying the device information where they can get hold of it.
It is set to provide smartphone fans a device with a 5.9-inch Full HD touchscreen powered by the 1.7GHz quad core Qualcomm Snapdragon 600 processor along with 2GB of RAM. The handset is set to come with 16GB or 32GB of built in storage with expansion possible via microSD card.
On the rear is a 13-megapixel with an f/2.0 aperture lens and this is supposedly set to swivel so it can face either way. There is also a touch panel on the rear for working your way around the user interface that takes the rear buttons of the LG G2 to another level.
Do you like the look of the Oppo N1?