Galaxy S4 Android 4.4 Internet, benchmark speed test videos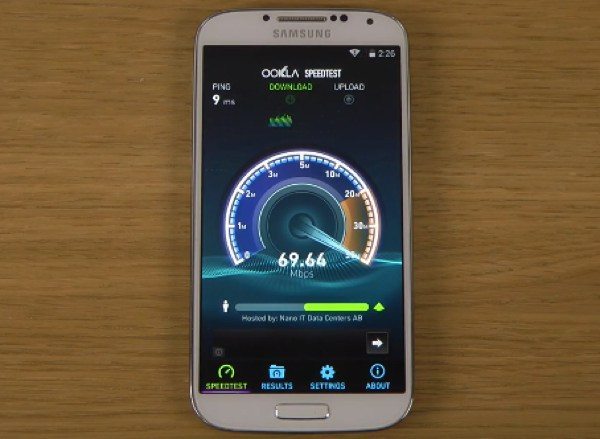 It's always interesting to see how certain smartphones and operating systems fare in various tests and today we're looking at Samsung Galaxy S4 Android 4.4 Kit Internet and benchmark speed tests in videos.
The Android 4.4 update has not officially arrived for the standard Galaxy S4 yet (it has arrived for the Google Play edition), but CyanogenMod 11 Android 4.4 KitKat is available, and that's what the Galaxy S4 in this testing is using. We've embedded a couple of YouTube videos below this story showing the Galaxy S4 with Android 4.4 KitKat.
The first is a 3-minute video that focuses on the Samsung Galaxy S4 with CyanogenMod 11 Android 4.4 Kit and Internet speed testing. It shows the speed test repeated several times for overall consistency and shows impressive download speeds and really good upload speeds. We won't give you the scores as you can see that for yourselves in the video.
The second video is a 3-minute look at benchmark speed performance with the latest version of Geekbench 3 on the Galaxy S4 with CyanogenMod 11 Android 4.4 KitKat. It shows the phone running benchmarks and then you can see the Geekbench score shown.
It's an interesting taster of what you can eventually expect with Android 4.4 KitKat on your Galaxy S4 and of course the official update could offer further improvements. We know from readers that many of you are frustrated at the lack of information from Samsung about this update so far, but hopefully we'll hear more soon. A leaked roadmap recently pegged the Galaxy S4 and Galaxy Note 3 for Android 4.4 in January but this is unconfirmed.
Are you waiting for Samsung to start pushing out the Galaxy S4 Android 4.4 update? What do you think of the performance results so far from the videos embedded below?