Galaxy Note 3 vs. iPhone 5 iOS 7.1 Beta 2 speed test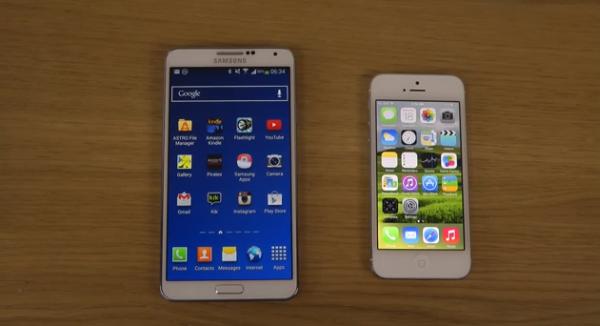 There are quite a number of powerful smartphones available to consumers on various platforms and today we have two of the most popular devices going head to head in an Internet speed test with a Samsung Galaxy Note 3 vs. iPhone 5 iOS 7.1 Beta 2 video.
We have already seen a couple of comparison videos with an iPhone running the latest beta for the upcoming iOS 7.1 operating system, which can be seen here and here. Today we have a new one for you that sees a Galaxy Note 3 running Android 4.3 Jelly Bean going up against an iPhone 5 running iOS 7.1 beta 2.
The video starts by giving us a look at the software information for the iPhone 5 before doing the same with the Note 3. A speed test app is then opened before the user connects both handsets to the same Wi-Fi connection.
This test is run three times and we start off with the iPhone 5 which returns a download speed of 12.22Mps while the upload speed returns a score of 43.56Mps. We then turn our attention to the Galaxy Note 3 which achieves a download speed of 52.15Mps and an upload speed of 47.49Mps.
The test is run another two times on both handsets with some surprising results from the iPhone 5, but we won't spoil the results of the winning handset for you. Check out the video in full and tell us what you think of these results.