Motorola Moto G Verizon release seemingly closer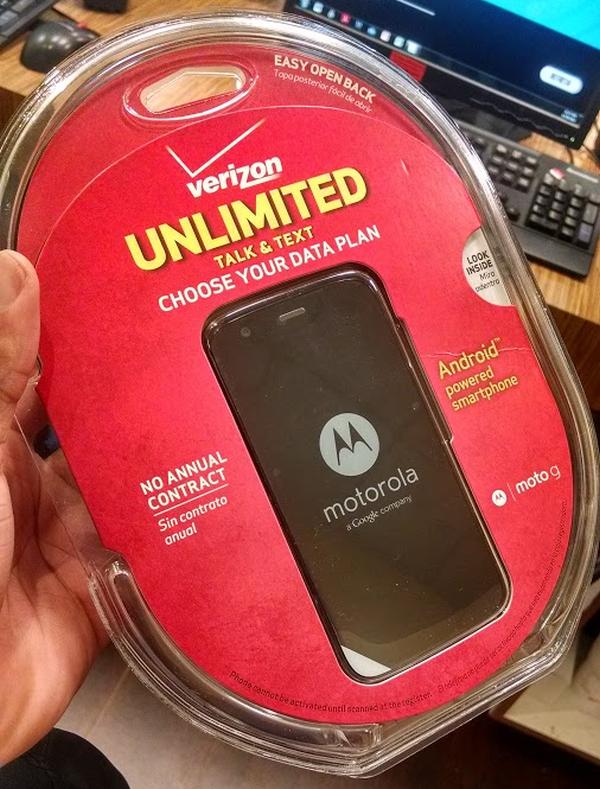 The launch of the Motorola Moto G a while ago brought budget Android smartphones to a whole new level, as not only does the handset have some worthy specifications it also comes at a great non contract price. Now the handsets release on US carrier Verizon Wireless is seemingly getting closer thanks to a leaked image of the device inside some packaging.
Motorola released the Moto G early in the US when it wasn't expected to arrive until the New Year, and the company has also begun updating the device to the Android 4.4 KitKat update. Now the image that you can see on this page has been posed by Google+ user Josue Joseph, and is showing the Moto G in its plastic packaging for Verizon Wireless.
The carrier has already confirmed it will be adding the smartphone to its prepaid range of handsets early next year, and the user that posted the image according to his profile works for the Best Buy Mobile store and the image has the statement "Look at what just arrived!!".
So this seems to suggest that the carrier has begun sending out inventory to retail stores in time for the handsets official availability, but the user does state that he can't actually sell the Motorola Moto G yet and doesn't know of its launch date.
He does go onto say that he thinks it will be available for only $100 which if accurate is a great price, and will be at a similar level that Tesco in the UK is selling the handset for but it has to be connected to their network.
To quickly recap the device features a 4.5-inch 720p display with a quad cote 1.2GHz processor under the hood with 1GB of RAM, and there is also a 5-megapixel rear facing camera paired with a 1.3-megapixel front facer.
Update: The handset will be available via the carrier from January 9th.
Are you planning to get the Motorola Moto G from Verizon?