Nokia Normandy Android screenshots supposedly say hi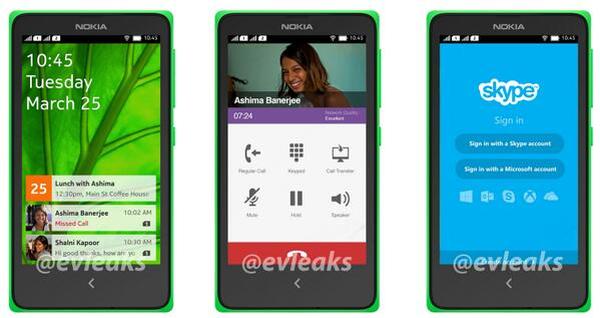 There has long been many fans of Finnish smartphone manufacturer Nokia that have desperately wanted the company to provide a handset running the Android operating system, this possibility could be closer as the Nokia Normandy with some Android screenshots supposedly say hi.
Back in September we heard talk that Nokia had been working on a device that was running Android before the takeover by Microsoft was announced, but more recently it was claimed that the phone was still in development and would use a similar Android based OS that the Amazon Kindle Fire range uses.
Now the image that you can see on this page comes from often reliable evleaks that is showing the rumoured Nokia Normandy handsets, and is accompanied by the caption "Android on Nokia (-virtual buttons)."
The images don't show any version of the Android operating system that has been seen so far while the handset itself looks a little reminiscent of the Nokia Asha 503, and the software itself looks like what is found on the Asha series.
Now this could fit in with previous rumours about the fact that Nokia want to build its own Android based operating system, or it could be a clever bit of Photoshop, but the source does have a pretty good track record with smartphone leaks.
A closer look at the status bar also shows dual SIM support but we will have to wait and see if the company is going to provide such a device, and next month's MWC 2014 event could throw some light on the matter.
Do you think this is legit?