Sony Zperia Z1 Compact European pricing and offers revealed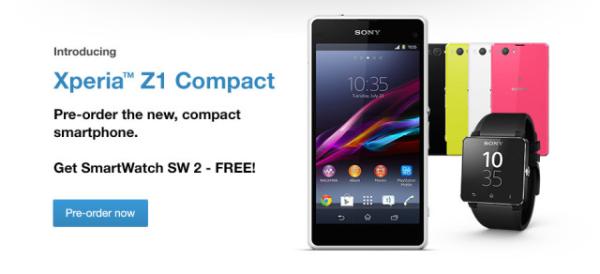 Those consumers that don't want a large smartphone have had to put up with smaller Android devices that had lower specifications than their bigger siblings, but Sony changed this with the Z1 Compact that has now had its European off contract pricing and offers revealed.
We have already heard how some UK retailers had begun taking pre-orders for the Sony Xperia Z1 Compact which included an off contract price, but now the company has revealed pricing for the device from them with some nice freebies thrown in as well in many countries.
In the UK the Sony Xperia Z1 Compact will cost you £449 but this includes a free Sony Smartwatch 2 thrown in for good measure, while in France it will set you back €549 but if you pre-order now you will get a €50 refund. This compares to Germany were the smartphone will cost you €499 and you will get a Sony DR-BTN200M Wireless Headset for €1.
This is the same deal that is being offered to Italian consumers while in Spain the same deal for the €1 headset is priced at €549 for the handset, but customers in The Netherlands have to pay €549 for the Xperia Z1 Compact without any offering to sweeten the deal.
In Poland the smartphone can be yours for PLN 1,999 with the Sony headset available for PLN 1, and in Sweden the Compact is priced at SEK 4,695 with the wireless headset costing SEK 1. All theses accessories on offer either free or at a low price are on the condition of making a pre-order for the handset via the online Sony Store, which is expected to be available by the end of this month or at the start of February.
Will you be getting the Sony Xperia Z1 Compact?
Source: Xperia Blog