Nokia Lumia 1625 tablet teases further releases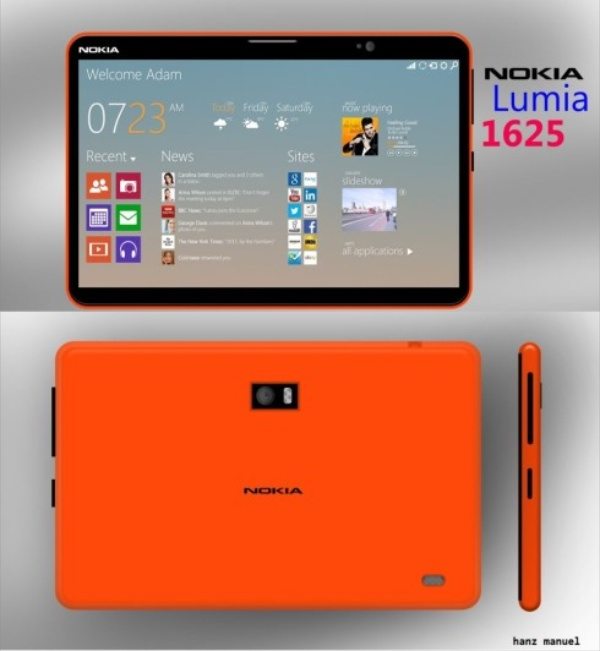 Nokia brought its first tablet to the market late last year in the form of the Lumia 2520, a good-looking device with some very decent specs. Many people are hoping to see more Nokia tablets emerge this year and today we have the Nokia Lumia 1625 tablet to show you.
This is a concept design that nicely teases further tablet releases from Nokia. The Nokia Lumia 1625 concept render comes from designer Hanz Manuel and is very different in styling to the Lumia 2520.
It has curved edges, larger control buttons to the side, and slimmer bezels, and features the bright coloring that Nokia Lumia devices are known for. Many concept designs that we show readers come with imagined specs for the device but that's not the case for the Lumia 1625.
The Lumia 2520 tablet has a Snapdragon 800 quad-core processor, Full HD display and 2GB of RAM. Therefore we'd hope that any Lumia tablets releasing this year would have at least matching specs and hopefully improved ones.
This could be 3 or 4GB of RAM, maybe the Snapdragon 805 processor and possibly screen resolution of 2560 x 1600, as has been speculated for the Pantech Vega Iron 2 and the Galaxy S5. We'd also hope for Windows RT 8.1.
There have been rumors that Nokia will release an 8-inch Lumia tablet in the coming months, and we'd like to know if you'd like to see more Nokia tablets this year? What are your thoughts on this Nokia Lumia 1625 imagining?
Source: Concept Phones