New Galaxy S5 interface tantalized by Samsung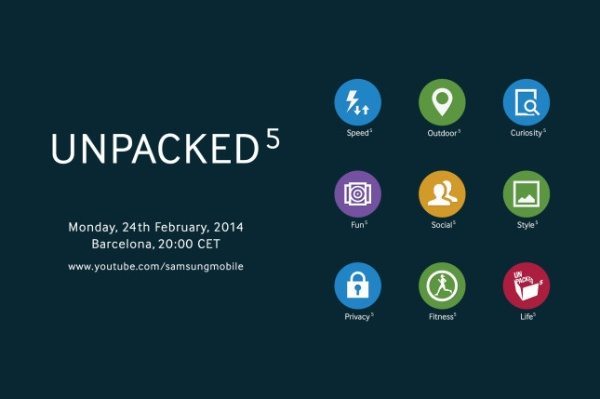 Anticipation is rising for the Samsung Galaxy S5 ahead of its expected reveal at a Samsung Unpacked event taking place on February 24. There have been plenty of leaks about the device already and now the new Galaxy S5 interface has been tantalized by Samsung.
We've already seen some leaked images that purport to be of the new Samsung TouchWiz user interface and only yesterday we saw a further leak showing the new UI's status bar. Now a Samsung teaser has just been issued for the Unpacked event containing an image that could be indicating a completely new look for the interface.
The image shows nine different icons with attributes and they are Speed, Outdoor, Curiosity, Fun, Social, Style, Privacy, Fitness and Life. The layout and icons give some hints about the new software redesign that's expected.
It's likely that Speed could be linked to a likely improved processor for example, and we wonder if Outdoor could be suggesting some sort of protection against the elements, perhaps water-resistance? The overall look of the icons on the image is very flat suggesting a cleaner, more simplistic approach.
Some of this new look reflects the new Samsung Magazine UX that was recently introduced for the Note Pro and Tab Pro tablets announced at CES last month. For example the notification dropdown settings are similar in styling to the icons shown in this Samsung teaser.
We're counting the days until the Unpacked event later this month, when hopefully all will become clear. While we wait for that you may be interested in a recent benchmark spot for the Galaxy S5 revealing some specs, and a look at some videos concerning recent news about the handset.
Are you eagerly waiting for the arrival of the Samsung Galaxy S5? What are your thoughts about what's shown on this new image that seems to tease the interface? Let us know with your comments.
Source: Android Authority