CBC Olympics Sochi app offers live streaming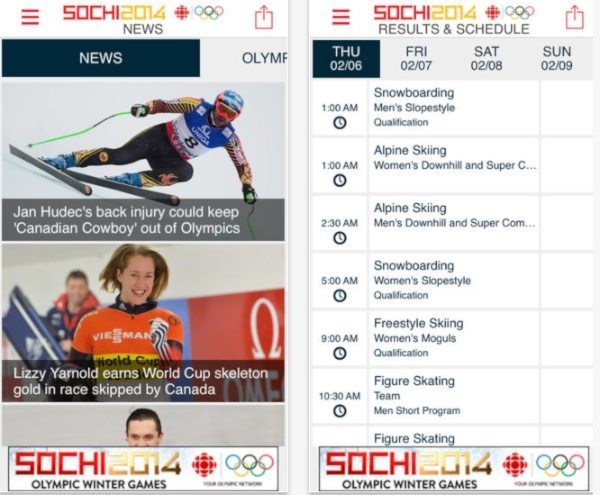 As the Winter Olympics 2014 progresses there seems to be an increasing amount of interest in following all the winter sports events. If you're enjoying the Games then you might be interested in the CBC Olympics Sochi app, which offers live streaming, news of Olympics standings, results and more.
The CBC Olympics coverage is extensive and this app has plenty to offer. It has real-time coverage of the Winter Olympic Games with live streaming of all of the sporting events in their entirety and with enhanced stats. The coverage is also available on demand later, as well as highlights, news and analysis.
This app comes from the Canadian Broadcasting Corporation and offers a choice of French or English languages, and Canadian athletes' performances in real time as well as results and the medal count. There's also a CBC Olympic Feed to keep you up to date with what's happening on social media.
Another feature is live commentary from athletes and journalists and a detailed event schedule and programming guide for CBC. If you want the Android version of the app head here to Google Play. This is a free app and it's compatible with devices running Android 2.3 or later.
Alternatively for the iOS version of the CBC Olympics app head to iTunes. This is also a free app and it's suitable for iPhone, iPod touch and iPad running iOS 6.0 or later.
You may also be interested in our previous posts detailing the official Winter Olympic apps, or Olympics medal count apps. Let us know what you think about the CBC Sochi Olympics app by dropping us a comment using the box below.