Samsung Galaxy S5 price decline prediction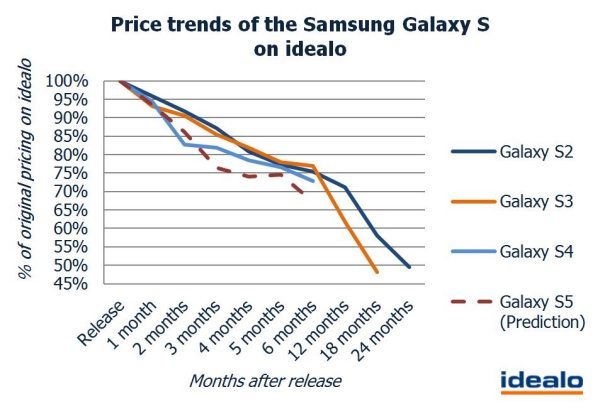 The Samsung Galaxy S5 prices are expected to fall by 24% after 3 months, and in order to predict the potential price decline of this upcoming smartphone following its anticipated launch on 24th February a new study shows a few details.
Idealo has examined its pricing data of the Galaxy range, taking into account the price evolution of the S2, S3 and S4, compared against their initial market sale price.
Highlights of the study shows that based on previous Galaxy price trends, the cost of the new S5 could fall by 24% three months on from market launch. It also highlights each newly released Samsung Galaxy model is seen to follow an increasing downward price trend in the first quarter following release.
Pricing data for the Galaxy S4, launched in May 2013, reveals that the model was 18% cheaper by August 2013. 

The study is based on previous price trends of the Samsung Galaxy S series, such as the S2, S3 and S4, and it seems the S5 once released could follow in the same footsteps.
Even if the price decline does happen on the Samsung Galaxy S5 after 3 months, we can still see these selling in the millions and being the most popular Galaxy product to date. Of course all products falls in the sales corner after a certain period — we just thought we would show you this study so your could have your say.
What are you looking forward to the most with the upcoming Samsung Galaxy S5?