MediaTek MT6595 octa-core CPU to rival Qualcomm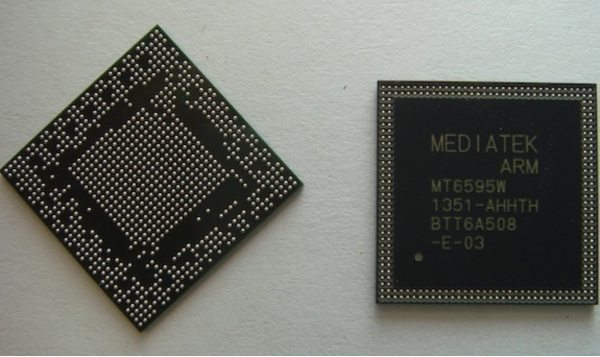 It doesn't seem long ago that we were telling readers about MediaTek's first 'true octa-core' processor release in the form of the MT6592. Now the MediaTek MT6595 octa-core CPU has been announced, to rival Qualcomm's 800 and 805.
MediaTek's prior true octa-core processor improved on the Samsung octa-core offering as it can run eight cores simultaneously whereas Samsung's Exynos runs four at a time. Before the end of last year we also heard that MediaTek would be producing 4G-capable chipsets for smartphones to release in 2014.
The new MT6595 chip will be used in high-end LTE handsets and the SoC will have four of the new Cortex-A17 cores at 2.5GHz and four 1.7GHz A7 cores. The Cortex-A17 architecture should lead to a performance improvement of up to 60% as opposed to the Cortex-A9 and uses ARM's big.LITTLE technology with Heterogeneous Multi-Processing.
The MT6595 also enables 42K video capture and playback and the new chip also comes with Rogue PowerVR Series 6 graphics. MediaTek says that its new chip will beat Samsung's Exynos variety in both speed and power efficiency. No doubt Samsung will have something to say about that at MWC 2014 later this month, which should lead to exciting times ahead!
The MT6595 chip will be available to phone makers and carriers in the first few months of 2014, with devices using the chip expected to release in the second half of the year. MediaTek continues to make massive headway into the market and we'd like to know what readers think about the new MT6595 octa-core processor, so do sent us your comments.
Source: Engadget