Samsung Galaxy S5 waterproof release confusion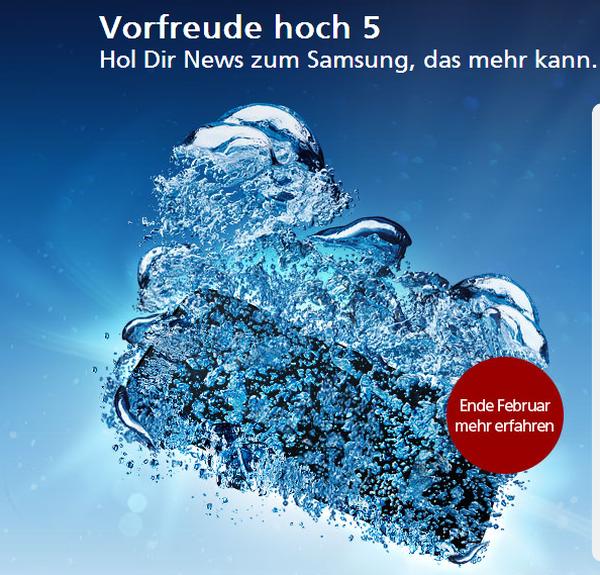 The anticipation for the arrival of the next flagship smartphone from Samsung as we get closer to the Unpacked Episode 1 event pencilled in for February 24th is growing. Now following a tease by a German wireless carrier there has been some confusion about a waterproof Samsung Galaxy S5 release.
The image that you can see on this page is from O2 in Germany with the teaser message that hints at "Samsung that can do more", and shows a smartphone that is submerged into water. This has led some to the believe that Samsung could be adding some waterproofing features to its next flagship smartphone in a similar way that Sony started to last year.
Others are suggesting though that this is nothing unusual for the carrier to use water for its press campaigns, or it could be hinting at a possible Samsung Galaxy S5 Active release that may come around the same time as the main device unlike last year with the launch of the Galaxy S4 Active, and Galaxy S4 Zoom.
The guys at O2 may know more about the upcoming handset than the rest of us, but until the device takes to the stage in just over a week's time we will have to make do with various leaks and other teases that keep emerging.
Only yesterday we saw a render of the Galaxy S5 that come from a source that has been accurate in the past in terms of unannounced Samsung products. So far it seems that the handset will come with a 5.25-inch display at either a Full HD or 2K resolution, and powered by the Exynos 6 Octa core processor, or the Snapdragon 805 chip.
The main camera is believed to be either 16-megapixels or 20-megapixels depending on which rumours you believe, and feature at least 3GB of RAM. There is also talk that the fingerprint sensor will be part of the screen recently taking Apple's system a stage further.
Do you think we will see a waterproof Galaxy S5?