Oppo Find 7a price confirmed, pre-orders open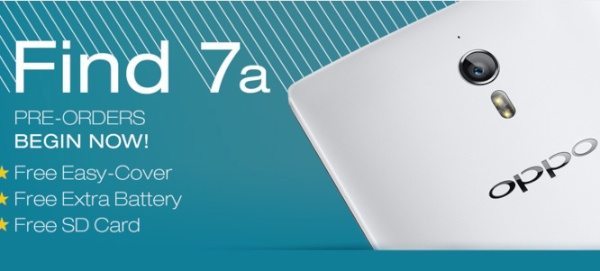 At the end of last month we gave readers the news that Oppo would be opening pre-orders for the international version of the Find 7a, although at that time the company hadn't given pricing details. Pre-orders are now open and the Oppo Find 7a price has been confirmed as €399.
Oppo is also offering a nice incentive in the way of freebies, as we discussed in a previous article, and plenty of people are likely to find this phone an attractive proposition. Actual shipping of the device is expected to take place by the end of this month.
It's important to note that there are two versions of the Find 7. The Find 7a that we are discussing here has a 2.3GHz quad-core processor, a Full HD 5.5-inch display with resolution of 1920 x 1080, 2GB of RAM and a 2800 mAh battery. The superior Find 7 has a 2.5GHz quad-core processor, 3GB of RAM and a 3000 mAh battery, and a coveted QHD display with resolution of 2560 x 1440, but this version is not expected to release until May.
Head to the Oppo source below if you want to place your pre-order for the Oppo Find 7a now. Are you planning to buy the Oppo Find 7a, or are you going to hold on for the Oppo Find 7 with QHD display?