Motorola Moto G LTE and Moto G Ferrari versions leak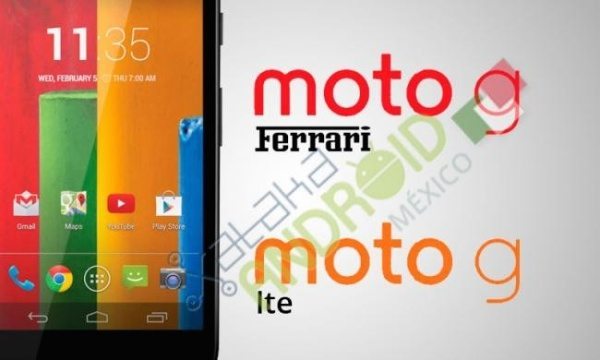 News about upcoming Motorola devices seems to be prominent at the moment and now the Motorola Moto G LTE and Moto G Ferrari versions have been leaked. The Moto G has been an extremely popular smartphone and further variants of it are likely to extend its popularity.
One aspect that has made the Moto G so successful in the way of sales is its affordable price tag, and that's unlikely to change with these two new claimed models. The Moto G LTE is fairly self-explanatory as this variant is said to support LTE connectivity, but otherwise would have virtually the same specs as the standard Moto G.
The leak says that this will only be available in a 16GB model and that the price will be around $260 for Mexico where it could release as early as June. There is also a suggestion that a flip shell for the phone, usually priced at $29.99, might be included with the handset.
Details of the Motorola Moto G Ferrari are rather sparse though, although the manufacturer has come up with Ferrari-branded phones before. One obvious pointer that comes to mind is that this could be a red version of the phone featuring the Ferrari logo, but for this one it's a case of wait and see.
Recently we also informed readers of another Motorola handset that had leaked that would be available in three models, the XT1021, XT1022 and XT1025. Further news suggests this will in fact be the Motorola Moto E, so it looks like some busy times ahead for Motorola.
It's unclear at this stage whether the Moto G LTE and Moto G Ferrari will be available across the world, or whether the release will be limited to one region. We'll let you know more as we hear it. Would you buy an LTE version of the Moto G?
Source: Xataka (translated)
Via: Phone Arena