HTC Sense 6 update status page for US HTC One devices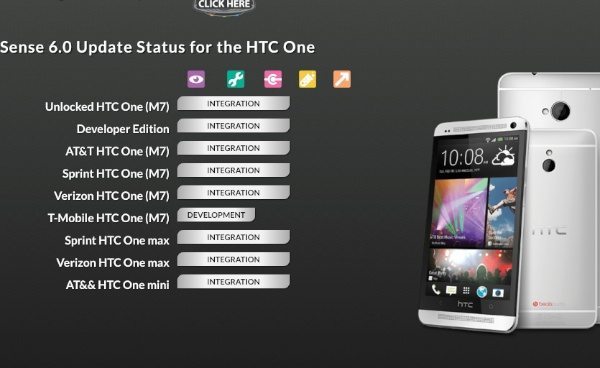 The HTC One M8 was recently released with the new HTC Sense 6 UI, and many people have been waiting to see when Sense 6.0 will arrive for phones in the original HTC One (M7) lineup. The official HTC Sense 6 update status page for those devices is now live for owners of the phones in the US.
Back in March a well-known leaker tipped some HTC One devices that would be receiving Sense 6 at some point, and then a week ago we heard confirmation from HTC America President Jason Mackenzie that Sense 6 would arrive by the end of May for the HTC One, at least in the US and Canada. At the same time Mackenzie mentioned that the update status would be available on the HTC website shortly.
Now that page is up-and running (see source below) and shows the update status for various devices. Shown on this page are the HTC One (M7) versions for AT&T, Verizon, T-Mobile, and Sprint, the HTC One Max for Sprint and Verizon, the HTC One Mini on AT&T, HTC One Developer Edition, and also the Unlocked HTC One.
At the moment the status for each one reads "Integration" except for the T-Mobile HTC One, which says "Development." The status of 'integration' signifies that work is in progress to get the Sense 6 update working on the hardware.
Although we're no clearer at this stage on exactly when the Sense 6 update will arrive for these devices, it's reassuring to see that it's in progress and many owners will appreciate that HTC is attempting to keep them informed. Are you waiting for Sense 6 for your original HTC One?
Source: HTC US
Via: Android Central