Motorola Moto E image shown with specs leak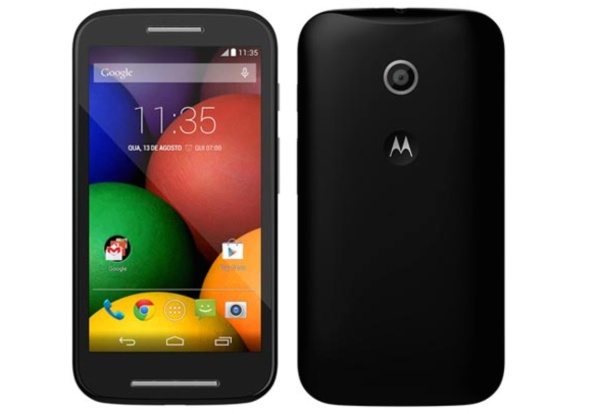 Recently evidence has been slowly leaking out about a Motorola Moto E budget smartphone. After an initial specs leak the phone showed up on a listing for an import site in India with a unit price value. Now a new Motorola Moto E image and specs leak shows plenty more about this phone.
It appears that the Moto E has three different models, XT1021, XT1022 and XT1025, thought to respectively be single SIM, dual SIM and dual SIM plus digital TV versions. The new image has come to light via a retailer in Brazil and as well as the very clear photo of the device shown here, there are further details provided.
Moto E specs are claimed to be a 1.2GHz Snapdragon dual-core processor, 4.3-inch display (resolution unspecified), 1GB of RAM, and 4GB of internal storage (expandable via microSD to 32GB). There's also a 5-megapixel rear camera but this doesn't have Flash and there's also no secondary camera. The phone will feature 3G and Wi-Fi and have a 1980 mAh battery, and it will be running Android 4.4. KitKat.
Dimensions are said to be 124.8mm x 64.8mm x 12.3mm with a weight of 140g. This is interesting as previously the Moto E was rumored to be just 6.8mm thick and obviously this latest news varies significantly from that. Maybe it was too much to think a phone that will obviously have an affordably price tag would be so slim.
It's also thought that the phone will feature variously colored interchangeable Motorola Shells. We should remember that none of the above is confirmed, but the Moto E is expected to be unveiled at an official event being held on May 13. Hopefully we'll then hear confirmed specs, a retail price and also a release date for the Moto E.
Source: FastShop
Via: Phone Arena