Samsung Galaxy S5 vs Huawei Ascend P7, strongest points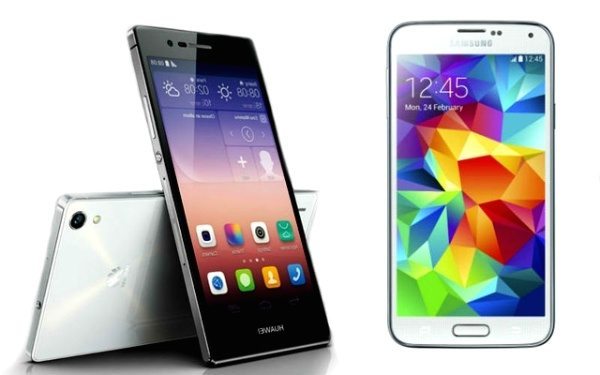 The Samsung Galaxy S5 hardly needs any introduction as the most dominant new flagship Android smartphone available. Fewer people will be familiar with the Huawei Ascend P7, which has just been officially unveiled, though it also has plenty to recommend it. Today we're looking at the Samsung Galaxy S5 vs. Huawei Ascend P7 and the strongest points of each.
The Galaxy S5 is now readily available while the Ascend P7 is expected to release at some point in the next few weeks for various regions. You can see the specs and price of the Huawei Ascend P7 at the link for more details on that. We have embedded a YouTube video below this post from Total Tech War, which compares the two handsets by showing the advantages of each over the other.
The video begins by looking at the benefits of the Ascend P7 and some of these include its 8-megapixel front-facing camera, aluminum frame and thermal gel cooling. It continues by showing the advantages of the Galaxy S5, with a few examples being 4K video, its water resistance and the IR blaster. There are many more factors listed and you can see the full picture in the comparison below.
The comparison offers a useful way of focusing on aspects that are most important to you in a smartphone. Would you be more likely to opt for the Samsung Galaxy S5 or the Huawei Ascend P7?